Good Shows to Watch While Social Distancing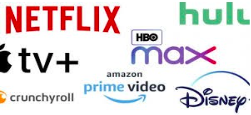 During this quarantine we have binged nearly every show on Netflix. If you're looking for a good show to watch, here's a look at what some of the WHB students are watching…
Juniors Hailey Hanyo and Molly Skorbohaty recommend "Outer Banks" on Netflix.  Hailey said, "It is a great show to binge watch, combines a teen relatble show with a murder mystery which keeps me on my toes, while being super interested." Molly added, "It's about kids who are looking for money that is inside a ship that sank in the 1800's."  Overall great show, highly recommended. 
Courtney Wenzel suggests watching On My Block, which is also on Netflix.  She says, "'On my Block' is a good show because it's funny, relatable, and action packed. It features four friends who take on the dangers of hood life, social life, and the hardships of being a person of color in this world. They encounter many different problems that they all solve together no matter how difficult the problem may seem." 
Jade Jackey says "This is Us" on Hulu is worth watching. "This is Us" is about a unique set of triplets, their struggles, and their wonderful parent. Revelations emerge from their parents' past, while the triplets discover deeper meaning in their present day lives. Jade said, "The show is very heartfelt and emotional."
The next great show to watch on Netflix is "Money Heist." Olivia Luce said, "It is an intense show and I never know what is going to happen next, which makes it so good." "Money Heist" is about a criminal mastermind who makes a team of like-minded people finish a plan for the biggest heist in history which involves printing Euros in the Royal Mint of Spain.  
Quarantine is really getting to us all and these shows are guaranteed to keep you very entertained.