With the haunted house industry being worth $300 million, most of its money is made during the spooky season. The Halloween season brings many ghouls, goblins, ghosts, and scary frights. Long Island has  some spectacular frights for you and your friends on chilly October nights. Here are some you can attend from least horrifying to seriously terrifying.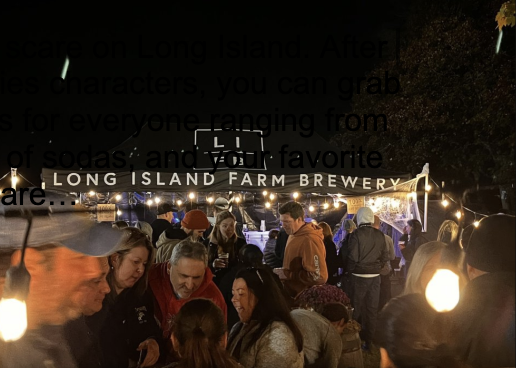 THE SPOOKY WALK 
Located in Center Moriches, this attraction has been around for 35 years. With a mildly spooky atmosphere it is a place you can attend for some yummy food and fun time. With prices being around $20, it is one of the cheaper options if you're looking for some spooky entertainment. Not only is it cheap, the money goes to the Camp Paquatuck Fundraiser to benefit a camp for children and adults with special needs. Kara McCormick, a junior at WHBHS, said,  "The spooky walk was not that scary and would be great for younger kids." 
The Spooky Walk is 45 minutes, which makes it the longest scare on Long Island. After being spooked by people dressed up as famous horror movies characters, you can grab some delectable dinner and dessert. They have food options for everyone ranging from hotdogs, sausage and peppers, hamburgers, a wide variety of sodas, and your favorite fall flavored desserts. Go enjoy the chilly, fall nights but beware…
Scare factor:  Two out of five ghosts.👻👻
October 20th, 21st, 27th, and 28th 
2 Chet Swezey Rd. Center Moriches, NY 11934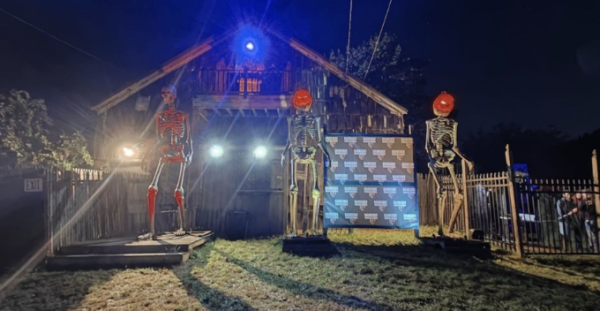 DARKSIDE HAUNTED HOUSE
Located in Wading River, this haunted house has been around for the past 25 years. Darkside Haunted House will leave "chills down your spine" and is named the 15th "Scariest Haunted House" in the country by TravelandLeisure.com. 
This attraction is about 25 minutes long and takes you outside and inside a spooky house. Tickets cost about $40 and you have to purchase it online, so it is not the cheapest option, but is still a great choice. The wait is usually about 10-15 minutes because of their ticket system where you pre-purchase your ticket for the time slot you would like, and arrive about 15-20 minutes before. This haunted attraction prides itself with being extremely realistic and has haunts  such as "The Village" and "The House." Now I'm not going to spoil the rest so you just have to see for yourself… beware. 
Scare factor: Three out of five ghosts. 👻👻👻
Open every weekend in October (check website for times and special events) 
5184 NY-25A, Wading River, NY 11933.
https://www.darksideproductions.com/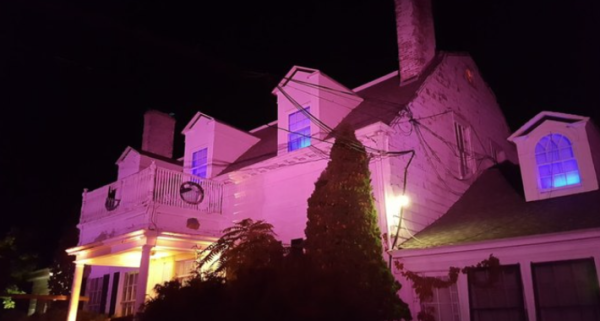 GATEWAY'S HAUNTED PLAYHOUSE
Located in Bellport, this haunted house has been around since 2009. This attraction has plenty of food, games, and entertainment for you to indulge in while waiting to be "the next victim." Don't let the upbeat environment outside the haunted playhouse fool you though, the scares inside are truly horrifying.  Gateway's Haunted Playhouse has won the title of Scariest Haunted House on Long Island for three years in a row, by popular vote on an interactive News12 poll. 
This haunted attraction also has professionally trained actors that act possessed and crazed, to enhance your haunt experience. The haunted house is $40 if you pre-purchase your ticket, but $50 if you buy it at the door. Not only is this haunted house great for older teens and adults, it even has a kid friendly version that only costs $20. This haunt will leave you with chills down your spine, and possibly some ringing in your ears, so beware…
Scare factor: Five out of five ghosts. 👻👻👻👻👻
 Six weeks of scares, from the middle of September to Halloween weekend 
215 South Country Road, Bellport, NY 11713. 
https://www.gatewayshauntedplayhouse.com/ 
​