Picking the Right College for You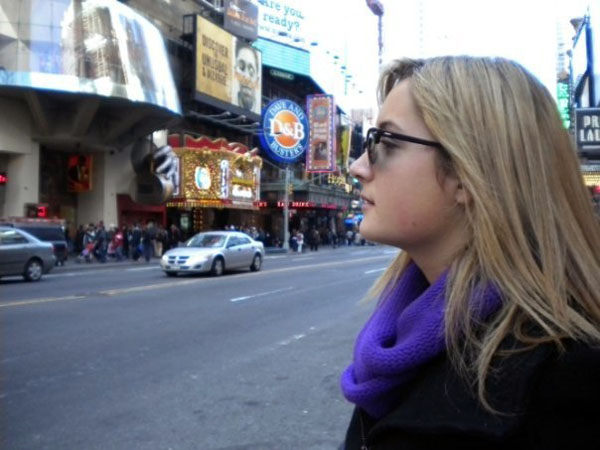 The future. It holds countless possibilities.
That concept alone can be quite overwhelming, especially for us high school students. All we want is to figure out what type of life we want for ourselves after graduation, but is it really that simple?
For most students, college is the most suitable path to walk down, after much thought and consideration, of course. But then, the questions of where and what colleges come into play, making the situation more chaotic and maybe even one of the biggest obstacles anyone will ever be faced with!
By interviewing WHBHS alumni currently attending college, I've gotten the inside scoop on college life, and their opinions on what the perks and disadvantages are in regards to their particular places of study.
Interested in learning in the city? How about New York City? Needless to say, many of us are.
Rachel Paoletta, former WHBHS student, is the perfect example of an ambitious young adult who headed off to what she calls "the best city in the world," to discover college life, and herself, in Manhattan.
Currently attending New York University (NYU), Rachel has never been happier. The excitement and diversity of Manhattan, along with the seemingly endless opportunities that are available there, have left her with an even greater adoration for the city, and a growing love for NYU, which in her eyes is like an "urban microcosm of the world."
"I could buy a falafel on MacDougal Street, then buy the richest Italian cappuccino right next door," Rachel mesmerizingly claims.
From clubs to classes, there is a niche for every single student. Yet, Rachel firmly declares that NYU is not a school for everyone, insisting, "You have to be 100% sure that you are ready to live in Manhattan. It's more like being a living, working person in the city than just 'a college kid.'"
From Rachel's short experience thus far, she professes her growing maturity and integration in the real world, leaving her feeling "overwhelmingly like an adult" at times.
By and large, if you're ready for the exhilaration of the city and the opportunity to truly become an independent adult, then a college like NYU may be your calling.
Say you decide to attend a college in the city, but turns out it's not the place for you. Well, there is always the choice of transferring, which is exactly what Jackie Nobile, another former WHB student, did after strongly disliking Pace University, located in lower Manhattan.
Jackie now attends Stony Brook University (SBU), pleased that she made the transfer to a college in a less urban area.
She had always thought the city was her place to be, and although it wasn't what she had expected, she proudly announced, "I needed that experience to fully appreciate and realize that SB Southampton is the right place for me."
Jackie's main reasoning for leaving Pace was there was "no real campus." In addition, Jackie noticed most of the student body lived off-campus, had their own friends, and lived their own lives, making it harder for her to meet new people. Not only that, but her intended major's programs weren't very serious.
SBU instantly appealed to her: it's cheaper than Pace, close to home, more convenient to commute to school and work, has a pretty campus, and has friendly faculty and staff.
Jackie made it clear that she loves living on campus. She loves the fact that she can do her own thing and that she always has something to do.
"Stony Brook has offered me a solid program," states Jackie. "This college is for anyone who wants to take her major seriously and walk away feeling like she really earned a degree and not reach graduation to question what they really spent their money on," she adds.
Unfortunately, the SB Southampton campus has been shut down, which is the campus Jackie had transferred to and fallen in love with, so she yet again had to transfer to the SB Main Campus, which is located on the busier part of Long Island. She is "okay" with the Main Campus, but would go back to the Southampton campus in "a heartbeat" if she could.
All in all, Jackie has a good outlook on college. Even she agrees that it is the most important decision of your life, and once you begin college, you begin "living for yourself" and making your own decisions.
"It's just You vs. Yourself in the game of college," she concludes.
Stony Brook University most definitely isn't located in an urban area like Manhattan or Boston, yet it isn't in the middle of nowhere. Yet, some students may prefer to experience college "in the middle of nowhere," in the countryside where the busy atmosphere is distant. If you so happen to find interest in living away from the general public, maybe a college like SUNY Cortland is the place for you.
Frank Prost, WHBHS alumni, currently attends SUNY Cortland and describes the "endless farmland" that surrounds the area, confirming that Cortland is "very rural."
Although he has loved the past three years of college, he does admit that the lack of stuff to do outside the town is a downside for him.
"It's definitely not like Long Island," Frank confesses.
Although Frank has not exactly fallen in love with the countryside, he has found a great sense of freedom from it, and is in short happy with his decision to attend SUNY Cortland.
So now let's say either you're unsure of what'd you like to major in, you don't want to spend too much money, you'd like to stay close to home, or your grades aren't that great. Well, for us WHBHS students, I'd say Suffolk Community College would be the answer in those cases.
WHB Alumni Nicki Loder currently studies at Eastern Suffolk County Community College, who of course has her likes and dislikes of the college.
For one, she loved that she was able to choose the classes she wanted to take.
In terms of disadvantages, Nicki says, "Most of the people make me feel like I'm still in high school, which I pretty much hated."
At the time, Nicki was uncertain on what to major in, and her grades "weren't the best," so she decided Suffolk would be a "great starting school" to temporarily attend. Now that she knows what she wants, and is ready to transfer next fall, she can't wait to "go somewhere else and see places," instead of being stuck in her small town.
Like Nicki, many high school seniors aren't quite ready to take the big step into a far away college right after graduation and decide to "ease" their way into the process instead, as Nicki puts it. It might be a community college, but Suffolk teaches their students about responsibility as well, just as any other college does.
Based on the information attained by these former students, it can be concluded that going to college is definitely a big transition in our lives. Even more importantly, there is a college out there for every person; no two colleges are the same, and that hopefully will give doubtful students hope in knowing the right colleges are out there, waiting to be found.