Cheerleaders Put A Pep in Their Step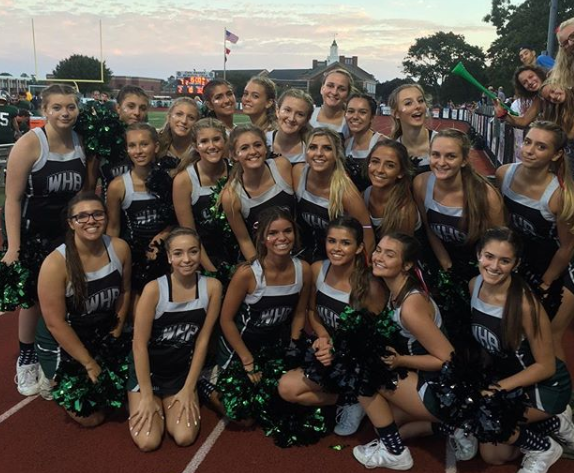 Hang on for a minute...we're trying to find some more stories you might like.
This football season the cheerleaders are preparing for pep rally and making sure they are taken seriously on the field. Despite what a lot of people may think, cheerleading requires a lot of time and effort.
In order to get ready for pep rally this year the cheerleaders have gone over choreography continuously every day since the end of August.
Being a cheer captain is a lot of responsibility and you have to be a strong leader.  Senior captain Alex Pazera said, "I like being a cheer captain this year because I like coming up with our routine and planning team bondings. I like being a person the team can look up to and want to become when they are seniors."
Learning the choreography for pep rally is very time consuming and requires hard work and patience. The girls practice for two hours everyday after school and even travel to Long Island Cheer in Ronkonkoma every Thursday to perfect their routine.
Coach Rafferty said, "The girls have put a lot of their time into making this routine the best it can be. Our entire team has been working hard to prepare for our performance."
The girls are extremely excited to perform this year at pep rally and to cheer at the homecoming game as well. All of that excitement sometimes makes it hard for them to focus.
Coach Rafferty continued, "The girls have great ideas and have played a huge part in creating our routine. Our captains have kept our team on task at practice while we learn new choreography."
For newcomers this year preparing for pep rally may have a different feel than others who have already been on the team. A new sophomore flyer on the team, Sidney Heany, said, "Because I am the only new flyer I feel as though I have to learn the stunts quickly and try my best to keep up with all the other flyers."
With this feeling of determination and uncertainty being a new flyer comes a feeling of sensation when you get things right. "I feel so happy and free for just that quick second while in the air," said Sidney.
The girls are taking their final moments to improve their routine to make sure it wows the crowd this Friday.