Golden Canes Win Challenge
Westhampton Beach's newest club, The Golden Canes, are the winners of Team Up 4 Community's "L.I Holiday Sports Hero Challenge."
The community rallied together to help The Golden Canes win.  They were awarded $3000 for their first place prize and donated the money to fellow Hurricane, sophomore Richard Ramirez. Richard was diagnosed with Ewing Sarcoma, which is a rare type of cancer that forms from a certain cell in bone or soft tissue.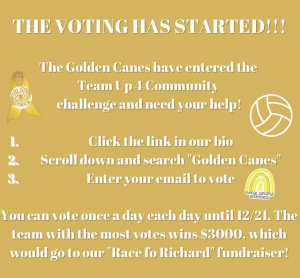 The Golden Canes is WHB's childhood cancer awareness club.  They teamed up with the girls' volleyball teams to raise awareness of childhood cancer in their community in their "Digging for Gold" event in September.
The team held a lemonade stand as well as a bake sale where they raised $500. The fundraiser was showcased in a video presentation for viewers to watch and then vote on; the groups that placed in the top three all were awarded with a cash prize.
Childhood cancer is close to the heart for me. Approximately 1,800 children die each year from cancer; I defeated the odds by beating stage three Non-Hodgkins Lymphoma at the age of nine.
I just celebrated begin in remission for eight years and created the club to use my experience to raise awareness.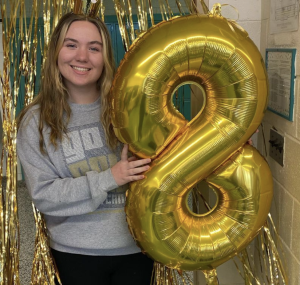 The Golden Canes are very active in September. Childhood Cancer Awareness Month. We try give back during the holidays for the kids being treated in the hospital.
During Ramirez's difficult times, the WHB community wants to provide their classmate with additional funds so he is will be able to continue to participate in his favorite activities as before.  The $3000 is just a start.
Look for opportunities throughout the school year to get involved with other fundraisers by The Golden Canes and to show your support for Richard.
Visit @WHBHurricaneWatch instagram for more information and be sure to follow @whbgoldencanes.