Senior Spotlight: Megan Making Moves All Over the World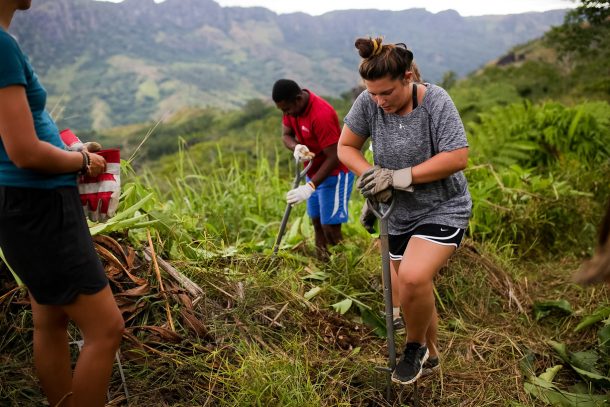 Aaaannnd the winner for "Most Adventurous" in the Class of 2017 goes to Megan Mensch!
Every available chance, Megan is out exploring the world, taking in new cultures, and experiencing what life would be like all over the world.  At only 17, she has seen 6% of the world, with more planned trips on the way.
The travel bug first infected Megan in 2012 when she went on a Mediterranean cruise with her sister, Kathleen, and her grandparents. Since then, she has traveled wherever she can, as often as she can. In total, Megan has been to the Vatican, England, France, Greece, Turkey, Burma ,Thailand, Cayman Islands, Dominican Republic, Mexico, Jamaica, Bahamas, and Fiji.
Burma (now called Myanmar) is Megan's favorite place that she has traveled to. Mostly because it was her first place she traveled to alone, even though older sister Kathleen joined this journey. Megan was finally able to branch off and do her own thing while in Burma, not to be stuck on a three hour tour guide.
Her favorite experience while traveling is traveling itself, hiking from the village to waterfall, the long buses rides, seeing the views.  It's the journey, not focusing on the destination.
A Westhampton Beach native with four siblings, growing up in the Mensch household was "chaotic and annoying," but Megan says she would not be the person she today if she didn't have her siblings, Kathleen, Brian, Molly and Andrew. And, of course her mom, Suzanne.
Her mother also had a love for travel growing up, and the passion for it was born into Megan. Ever since Megan started traveling, her mom has seen a very good change in Megan. She says Megan is now "more aware and appreciative of her life and where she comes from." Mrs. Mensch describes Megan as very passionate, a hard worker, with high expectations for all including herself.
From Megan's perspective, her motivation for travel, is "to know what's going on everywhere in the world and to be well informed." It is very important to know how other people live, and not be living in a bubble.
Megan is the type of traveler who packs months in advance. She is  very organized, and brings every medicine possible, because anything can happen while seeking adventure. She describes herself as open-minded, which is ironic, because that is how Kathleen would describe her as well. Kathleen says Megan is a "cautious traveler, always is prepared and ready for everything, while really experiencing the culture and immersing herself in what the country/place has to offer."
Kathleen could not come up with just one sentence to describe Megan, because just a single sentence cannot do Megan justice. She said, "Megan is the most incredible sister, and inspires her everyday, is always there to support her.  She is not only her sister, but her best friend."
Even though traveling is a lot of money, Megan says, "People should definitely invest in it, either save up or just go on a road trip, it will help to give you a bigger perspective on life." Fortunately, Megan has not had to pay for most of her travels in the past, but she works two jobs, so she is not in debt when more adventures arise. Working also helps her pay for college, and this motivates her to get more shifts.
Although Megan might seem like your average girl from WHB – she drives a white Jeep, is always on her phone, spends the weekends with her friends, and buys most of her clothes at Urban Outfitters – in actuality, she is a very unique girl.   Megan said, "I hate matching with people, so I shop at miscellaneous stores."
The adventures are just beginning for Megan, as she will be heading to upstate, to Poughkeepsie, where she will be attending Marist College. This school was one of her top choices, and she was beyond excited to get accepted.  Majoring in Communications, with a concentration in public relations, Megan hopes this will help her to get a job with Rustic Pathways, the organization that Megan has traveled with numerous times.