These Two EMO Eagles Are Flying Away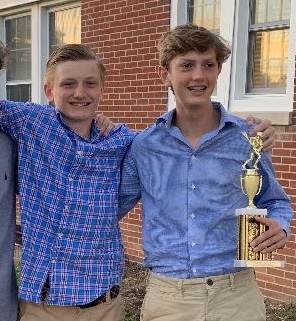 The Westhampton Class of 2023 is graduating. Seniors choose colleges all over the country. Seniors Aidan McCauley and Luke Kilroy shared why they picked their college.
Aidan will  be attending Johnson and Wales, a private college in Rhode Island located on the water. The campus has more than 170 acres and 52 buildings. They have much to offer in their "residence halls, classrooms, labs, dining halls, libraries, offices, open spaces, and internship, recreation and physical plant facilities."
The location is what most appealed to Aidan.  He said, "My favorite part is that it is located on the water and is not far away from my friends."
Aidan will also be joining the lacrosse team. Johnson and Wales lacrosse team plays in the DIII level. Aidan said, "I can't wait to play lacrosse at the college level. I am also excited to make friends with my soon-to-be teammates."
Luke is headed to Loyola University in Maryland. He also was drawn to the school due to its location outside of Baltimore.  He said, " I'm excited for the weekends hanging out in the city of Baltimore. Also excited for being able to see sports games with my friends."
Loyola has over 81 acres of campus. Loyola is also the #1 ranked college in the state of Maryland. 
Luke will be joining the ROTC program at Loyola to join the Army after he graduates. 
We wish Aidan and Luke the best of luck on the next chapter.