Belle Takes LAX to the Next Level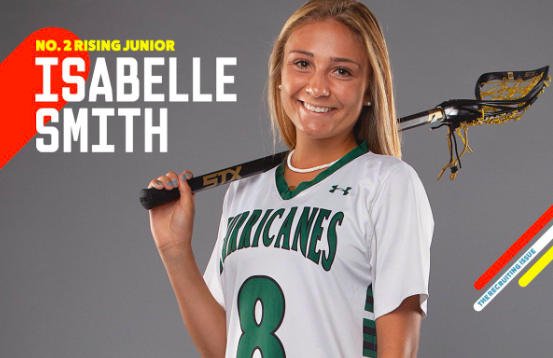 All-star lacrosse player junior Belle Smith is in the final round to see if she has what it takes to be in the Federation of International Lacrosse (FIL) to compete on the Women's U19 National team. 
In August 2018, 109 players were invited to try out for the team from a pool of 500 candidates. Now just 23 players are left.  The final team will have 18.
Belle is proving she deserves a spot. "It was a long process to try out and get in. You had to be invited to try out and there where multiple weekends where we played for the evaluators around the country (this is still going on)." 
Making it this far has been a goal of Belle's.  She said, "It been a dream of mine to play for US girl's lacrosse team. I always strived for that accomplishment even as a kid."
On the WHB lacrosse field, Belle recently scored her 200th goal, only the second Lady Cane to do so.  Her sister Alexa Smith completed this feat in 2014.
Belle said that many people have attributed to her successes. "My teammates, friends, coaches and especially my family. The community that surrounds me is such a part of my success. Without them and without their support, non of this could be accomplished and I'm so grateful for that. The support in our community is so grand, it feels as though the community is going through the process with me, which is pretty cool." 
The FIL Women's U19 Championship will be held August 1-10, 2019, in Canada.
You can follow Belle's journey with the US lacrosse team on Instagram, @uslacrosse or @USAWLAX.