Lady Canes Take Tennis LIC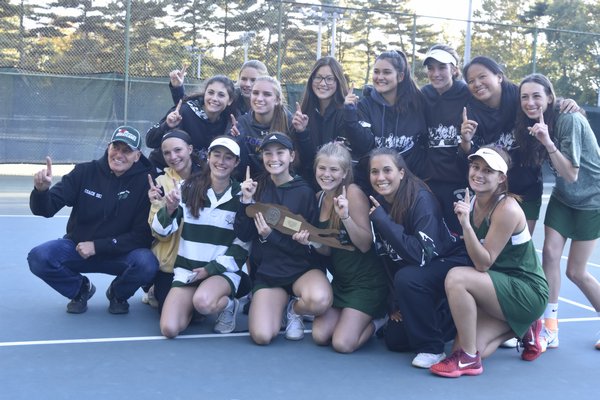 Game, Set, Match.
The Hurricane girls are the first ever tennis team from Suffolk County to win the Long Island Championships, making sports history, both for WHBHS and Suffolk County tennis.
Before going to the LIC, the girls versed Commack in the Suffolk County Championship. Rose Peruso and Juliet Tomaro were the second doubles pair in the match which would decide whether or not they will accomplish making it to the LIC.
They won their last two matches, putting them in the lead.
On Thursday, October 25, the Hurricanes defeated Syosset, 4-3, at Eisenhower Park in East Meadow making them become the first girls tennis team from Suffolk County to win the Long Island Championships.
Varsity tennis coach John Czartosieski truly believed his players had the potential to prove they were the best team on Long Island. Junior Helena Jones, varsity doubles player paired with Mia Seitles, explained how it feels to accomplish the biggest achievement in the sport you love. "Just making it to the LIC was such a great feeling, then we actually won it and it felt like winning the lottery. Just seeing how happy our coach was made everyone as happy as he was."
Making it to the Long Island Championships feels like the most important thing in the world to the girls that have dedicated all their time and devotion into this sport. Senior Emma Bender said, "We practiced every Tuesday and Thursday since the beginning of the summer but all of us also play outside of the team so there is so much time put into playing along with all the team practices."
Every hard match or extra time spent for practice was worth it. People should take more notice of the hard work these girls have put in and how because they all bond together as a family it has kept this team strong.
The Lady Canes went as far as they could go and have made history they will remember forever.