Alumni Update – Shelby Meduski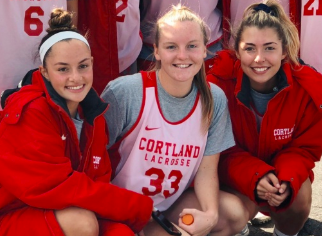 Shelby Meduski, a 2018 WHB grad who now attends SUNY Cortland, is studying Adolescent Education in math. She also plays for the Cortland Lacrosse team.
Shelby absolutely loves lacrosse at Cortland, and having a great relationship with all of her teammates as well as her talented and supportive coach makes it even more fun. For this season's Fall Ball, she practices four days a week for about two hours, not including lift.
If you are looking to go to college for a sport, Shelby's advice is to "make sure that you are dedicated to the sport that you are playing because it takes a lot more dedication and time compared to high school." She also encourages future college athletes to practice time management so that they are able to do well in school but also shine in athletics.
Shelby doesn't find it challenging to manage school work with lacrosse because she has a lot of freetime. When she is not at class or practice, she does her homework and hangs out with her team and dormmates.
Shelby also recommends future college athletes to take classes in high school that offer college credits. Going into college after taking AP courses prepares students for what they are getting themselves into and can also help save money.
Shelby misses her family, her dog and the Hamptons food. She often says that she could go for a BEC, Funchos, Bagels n' Brunch and more. Being in upstate NY also makes her miss the ocean breeze a lot, but she loves where she goes to college and that distracts her from the fact that she misses home.
Shelby's future plans are to graduate from Cortland with a degree in Bachelor science. She hopes to find a teaching job on Long Island to stay close to her family and, of course, the beach!