Checking in with 2018's Dynamic Duo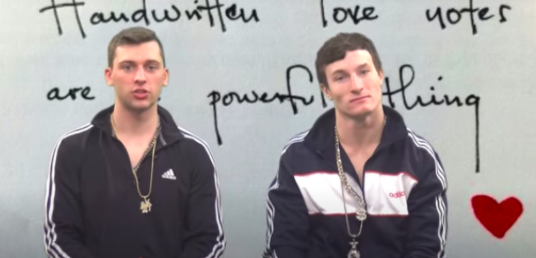 Life after high school graduation comes in many forms.  Three current WHB juniors sat down with two memorable alumni to discuss where life has taken them after WHBHS.
The two Hurricane legends, 2018 grads Dylan Laube and Mark Gregory, broke down life after high school and offered students advice on how to make the most out of your time as a WHBHS student.
In 2018, when the Hurricanes won the Long Island Championship, they were led by Laube, who was named the best player on Long Island.  Dylan was the first WHB player to win the coveted Carl Hansen trophy.  
After a very successful athletic career at Westhampton Beach, Dylan moved on to play college football at the University of New Hampshire. Dylan continues to dream big and hopes to win a national championship with his team.  He has already accomplished being named a freshman All- American and says, "I'm not done yet."  Dylan looks to have continued success on the field to make it to the next level.
However, COVID-19 has heavily affected Dylan's football season. UNH has switched the football season to the spring and is only allowing 15 practices in the fall. Dylan said, "There are a lot of regulations, so it's been difficult to just play football. I'm excited to get back into it."
Dylan's Hurricane Watch co-anchor, Mark Gregory, is also following his dreams.  At 18, he was hired by the FDNY, one of the youngest in modern history. He started his medical training at 16 and fire academy training by 17. He was completely certified on his 18th birthday.  Now, at age 20, Mark is working a job meant for people much older.
Mark has put in a lot of work and sacrificed a lot of time to complete his training in such a short amount of time. He says one of the best parts about his job is "wanting to come to work everyday and seeing something different and it's never repetitive." 
He joined the New York City Fire Department as an EMT and is assigned to the Queens Tactical response group. His job requires him to respond to normal medical situations as well as high priority situations like terrorism or riots.
As Mark awaits his promotion test to become a full-time fireman in New York City, he is a firefighter in Freeport to gain experience, . 
Mark and Dylan had advice to graduates who are graduating this year. Mark says, "Don't take high school for granted. It will be some of the most fun you ever have and it goes by so quickly." Dylan added, "Enjoy it while it lasts because it really does fly by, so just enjoy the little things."
These two 2018 graduates are excellent role models for WHB students and many will hope to follow in their footsteps. 
Mark and Dylan will always be in WHB's heart. Once a Hurricane always a Hurricane.