Musician Spotlight: Grayson Fox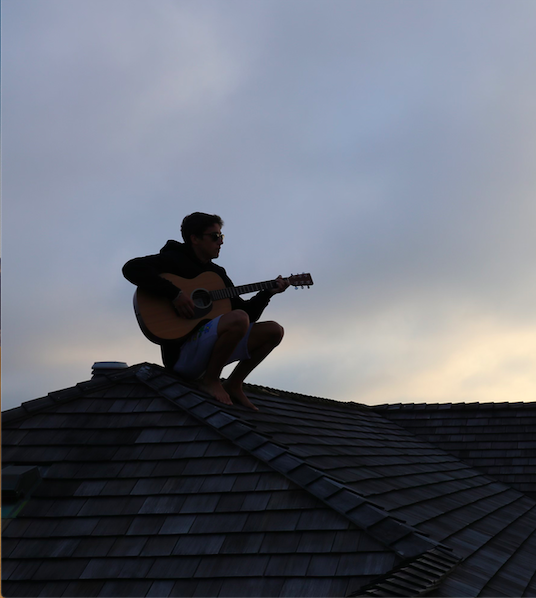 Music is an important part of the Westhampton Beach community. Over the years, many musicians have walked the halls of this school, forming numerous bands and gigging across the East End. Since graduating, many of these musicians are still playing music around the East End and pursuing their craft.
Arguably one of the best of those musicians is guitarist Grayson Fox. A 2020 graduate, he is one of the leading figures of the WHB music scene and is known for his unique playing style and versatility.
Grayson was inspired to play guitar by his father, who also plays guitar. He also has other family members who play guitar, so he decided to start playing to pick up the Fox tradition. He also plays bass and used to play the French horn.
In 2017, he joined The Sundried Tomatoes, made up entirely of WHB students and alumni. He played guitar and bass with them, as the members would regularly switch instruments. The band took second place at the 2018 Southampton Town Battle of The Bands competition.
Grayson's music career surged in 2019 when he joined The Water Boys, also made up of WHB students and alumni. His blues based guitar sound inspired by Jerry Garcia, John Mayer and Stevie Ray Vaughn drove The Water Boys towards a jam band sound. His fiery guitar solos came to the forefront of their sound, becoming the focal point of their extended jams. With them, he played various venues and restaurants, including The Mill Roadhouse in Westhampton, Bobbique in Patchogue and the Westhampton Beach Performing Arts Center. 
Additionally, he guested on guitar with the band Local Motion, made up of former WHB alumni during the summer of 2019 after seeing his talents with The Water Boys. 
When asked about his favorite band that he's played with, he says, "I'd have to say The Water Boys. They're the band that made me realize my musical potential and we've had some great jams." His bandmates had some great things to say about him.
"The unique thing about Grayson is how he's able to expand upon the fundamentals of guitar," says Water Boys lead singer James Puccio. "Sure, you could just play around with whatever scale in the key, but he's able to take what he's receiving and use it to his advantage to think outside the box." This outside-the- box way of playing guitar described by Puccio has taken The Water Boys to new creative heights.
"Grayson isn't a kid who took lessons since he was six, just a kid who wants to jam," says George Niflis, bassist and co-founder of The Water Boys. This made The Water Boys playing structure similar to other bands like Led Zeppelin or the Grateful Dead, which would be difficult to do without him."
Grayson is currently a student at the University at Buffalo, where he is majoring in history and planning to go into museum management in the future. He's also minoring in music and trying to play as much as possible. Though all of his classes have been online, he loves the school, although he admits, "There's no music scene up there, the one here in WHB is much better." 
Good luck to you Grayson on your future endeavors!