An Overview of the 2020 Senate Elections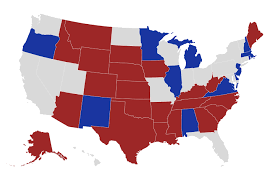 At the beginning of this year, the United States Senate was considered by most political pundits to likely stay under Republican control. As the year has progressed, many of the senators up for re-election this November have entered into competitive races that could give Democrats a majority in the senate for the first time since 2015. In order to do this, they would need to win a net gain four seats for an outright majority or three seats and the presidency. Here's a look at the races that will determine the balance of power.
Alabama- Incumbent Democrat Doug Jones is arguably the only Democrat up for election this cycle who is considered vulnerable. Jones won the seat narrowly in a 2017 special election against Republican candidate Roy Moore, who had been accused of sexual assault by multiple women. This year, Jones faces off against Tommy Tuberville, a former college football coach who won the Republican nomination over former U.S. attorney general Jeff Sessions with the help of an endorsement from President Trump. Jones has been trailing in polls against Tuberville and most pundits see this as a likely Republican pickup.
Arizona (Special)- This Arizona senate seat has had an interesting history over the past two years. When Senator John McCain died in August 2018, former Republican senator John Kyl was appointed to fill the seat. He later resigned the seat and it went to Martha McSally, 2018 Republican nominee for Arizona's other senate seat who lost to Democrat Kyrsten Sinema. Now, McSally is running in a special election to determine who will fill the seat until the 2022 regular election. Her Democratic opponent Mark Kelly, a former astronaut and the husband of former U.S. representative Gabby Giffords, has been out-fundraising her significantly and leading in most polling data, with leads varying from one percent to double digits. Additionally, McSally's comments that her supporters should "fast a meal" to donate to her campaign have hurt her chances at winning the seat.
Colorado- Incumbent Republican Cory Gardner is the only statewide elected Republican in the state of Colorado, which has shifted more to the left in the past decade. Gardner's seat is seen by many as a prime pickup opportunity for senate Democrats. Gardner is versing John Hickenlooper, who served as governor of Colorado from 2011-2019. Hickenlooper has led in all polls against Gardner and most political pundits rate the race as "Lean Democrat".
Iowa- Joni Ernst went from being a little known state senator to a rising star in the Republican Party after winning an open senate seat in 2014. Now, she's in one of the closest senate races of the 2020 cycle. While Democratic nominee Theresa Greenfield suffers from lack of name recognition, Ernst has faced criticism for comments on the Covid-19 pandemic and the Supreme Court vacancy. Polling has gone back and forth between both candidates, with Greenfield holding a slight edge. Most of these polls have been within the margin of error, showing an uncertainty in the race. 
Maine- Republican Susan Collins is the only senator on this list who isn't in their first term. Serving since 1997, Collins developed a reputation as a moderate who would work with senate Democrats on many issues and at one time held the highest approval rating of any senator in the country. However, her voting record in the Trump administration and her controversial votes to confirm Brett Kavanaugh to the Supreme Court in 2018 and to acquit Trump in 2020 have not gone over well in relatively Democratic Maine and have put her in a competitive race for the first time in years. Collins faces Democrat Sara Gideon, the Speaker of the Maine House of Representatives, who has been gaining ground in polls as Collins struggles to defend her recent voting record. 
Montana- At the beginning of this year, incumbent Republican Steve Daines seemed likely to hold his senate seat with no formidable Democratic challenger. However, the race shifted dramatically when Steve Bullock, the popular Democratic governor of Montana, entered the race in March. Bullock's entrance has made the race one of the most competitive in the nation. Daines and Bullock have had equal leverage in the race, both launching attacks against each other. While Bullock led in polls earlier in the year, Daines has been leading recently, though most of these have been within the margin of error.
North Carolina- Widely expected to be one of the closest states on the presidential level, an equally competitive senate race is occurring in North Carolina. Incumbent Republican Thom Tillis has suffered from low approval ratings and a low level of support from Republican voters in the state. He will be up against Democrat Cal Cunningham, a former state senator. Cunningham has been leading in recent polling data, and has led in a number of these polls in high single digits. Nonetheless, North Carolina's reputation as a swing state will keep the race close, but could be a good opportunity for senate Democrats.
Other senators that could face close elections include Gary Peters (D-MI), Lindsey Graham (R-SC), David Perdue (R-GA) and Mitch McConnell (R-KY). As of now, the Democrats are the current favorites to win control of the senate amongst political pundits and in betting markets. However, there are still 37 days left until the elections on November 3rd, so things could still change between now and then.