Classes Spread Positive Messages with 911 Good Deeds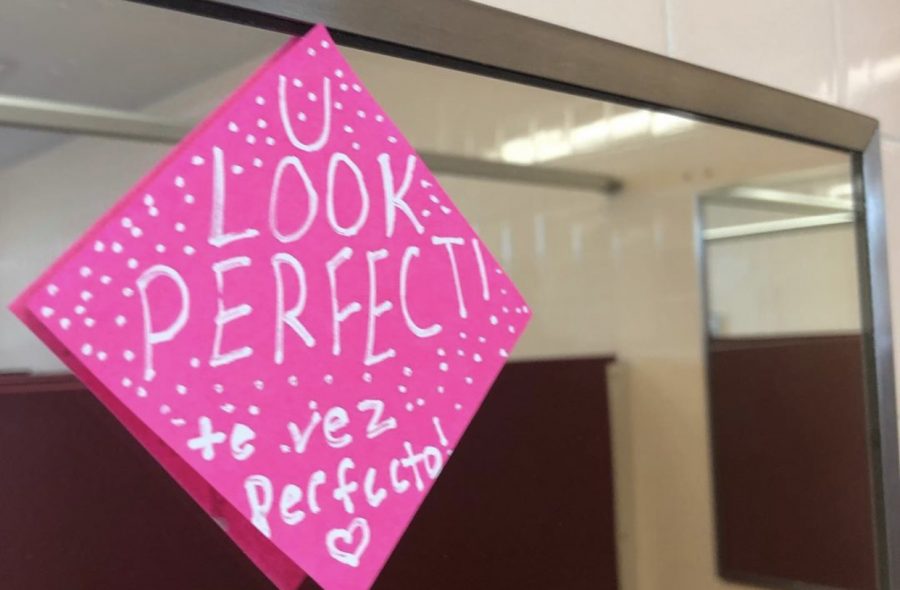 Ms. Sedano's classes have taken action to spread positivity across the school. On the first Friday of every month her students take part in a different activity that kindly benefits someone else. They call it 911 Good Deeds.
Last month one class wrote a thank-you note to one of our custodians, Dave King. Junior Sydney Wood  said, "I hope our notes brighten their day and helps them feel appreciated."
The large post- it notes were full of kind messages from various students. Cleaning the large building is something Ms. Sedano and her students feel shouldn't go unnoticed.

Another class wrote notes with empowering messages written on them and placed them around the school. One post-it note wrote "Ten un buen dia," meaning have a good day, with a smiley face drawn next to it. 
Another post-it note read "Tú sonrisa es perfecta," translating to "Your smile is perfect." These notes were strategically placed around the school by Ms. Sedano's students. Christian Capuano, a junior, enjoys taking part in the good deeds because it's "influencing young people to be kind."
You may be asking yourself "Why is it called 911 Good Deeds?"  After the 9/11 terrorist attack, people felt a need to spread kindness and love within their communities. As a result, the 911 Good Deeds challenge was created.
Ms.Sedano brought this into her classroom, after Mrs. Kast in the elementary school introduced her to the idea, in hopes to "change a very hateful event into something positive."
On 911day.org/GoodDeeds there is a seemingly endless list of good deeds that can be done in your home, school, and your community.