Maeve's Made Her Mark at WHB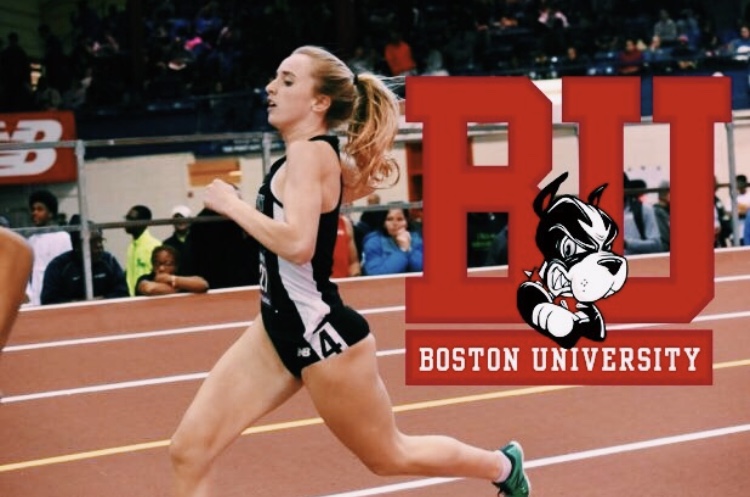 High school senior, Maeve Murphy is already a two-time State Qualifier and three-time All County runner.  As the girls track team captain she is excited to start her final winter season.
Maeve lives in East Moriches with her parents and her two sisters.  Maeve's oldest sister, Nora, currently attends James Madison University.  When Nora was in high school she ran the 4×4 relay, inspiring Maeve to do the same.  
In past winter seasons Maeve has qualified for states in both the individual 600 meter run and the 400 meter relay.  The relay team last year consisted of junior Maeve Murphy, senior Kayla Berman, sophomore Julia Smith and myself. We were County champions and gained the title of All-State by placing second at the state meet.  Maeve, as the lead off leg in the relay, was a huge contributor to this win.
This upcoming season will be Maeve's 4th year in the relay.  "Maeve's attitude and love of the sport is what makes her so determined," said close friend and relay teammate, Julia Smith.  Maeve hopes to be back at the state meet again this year.
"I'm just going to work hard everyday at practice and have a positive mindset,"  said Maeve, as she spoke on her plan to achieving her goals for the season.
This past fall Maeve committed to Boston University for track.  She is very excited to continue her running career in college. After finalizing her commitment, Maeve had nothing but positive things to say about BU. "The environment was just what I was looking for.  It's a big school and the track team works similarly to the team here at WHB." Maeve plans to major in public relations.
About her commitment, Coach John Broich said, "I'm nothing but happy for her.  She works hard and deserves it. Maeve is going to do great things there."
Maeve has made her mark at WHBHS, and is on her way to a new challenge at BU.