She Came, She Saw, She Conquered
Hang on for a minute...we're trying to find some more stories you might like.
It all started with a dream and a passion. For many years, WHBHS Latin teacher Celeste Tracy has wanted to write a novel, but not just any novel­–one about Alexander the Great, "written in his own voice, as a narrative, to immerse the reader into his mind." The end result was In the Theatre of the World, which is widely popular among Macedonians around the globe.
A fanatic of ancient civilization since her childhood, it wasn't until Mrs. Tracy was 15 when she realized her dream of writing a novel on Alexander the Great. "After reading novels and non-fiction works about Alexander, I was not satisfied with the portrayal of the Macedonian king," stated Mrs. Tracy. Most novels about him don't allow the reader to discover the causes and conditions that created the great leader that he was. "I wanted to share his strong qualities of determination and aspiration with the Young Adult readers, those qualities that had a powerful influence on me since I was a teenager."
The writing process of In the Theatre of the World started in 2002, three years before Mrs. Tracy started to teach Latin in the WHB school district. It took two years to research and write it, complete with the copyright in 2004. "One editor read it, but it did not go forward. It remained in a three-inch binder until six years later, The Fates decided that it was ready for publishing." Ten years, two translations (English and Macedonian), and two cover changes later, In the Theatre of the World was finalized and ready for sales in the summer of 2011. "I self-published it on Kindle and paperback. Eight months thereafter, I commissioned three international artists, all contributing to the illustrations and the new book cover." How many teachers in the WHB school district can claim that they've self-published a very successful book?
Ever since its launch, In the Theatre of the World has received lots of attention and praise. "Here in the States, I have done well in sales and a small fan base has developed. The international community, especially from Macedonians in Canada, Australia, and Macedonia have embraced me, and international sales have topped my U.S. sales." One result from the novel is Mrs. Tracy's upcoming summer trip to Macedonia.
In addition to her novel, Mrs. Tracy has also written several academic articles on the Roman-Macedonian Wars. These have been "published in several online magazines, journals, and in a few newspapers in Canada and in the Balkans." She has also been invited to attend conferences regarding her writings and interviewed several times through Skype.
Mrs. Tracy is "never without gratitude for all the support I received. My family, most patient throughout this odyssey, merits the plaudits for their support, and I am very grateful to every individual who has supported me, especially the laudable Latinists of WHB." Her Latinists only have positive things to say about her. Former student Sara Searson stated, "She was one of the best teachers I ever had who made me passionate about a language I never thought I could speak a word of." Freshman Christine Boland says, "She tells stories so great; it's just amazing." Freshman Magali Christensen added, "She's very animated. That's my favorite thing about her."
In the Theatre of the World is available for purchase on Amazon.com in paperback and Kindle forms.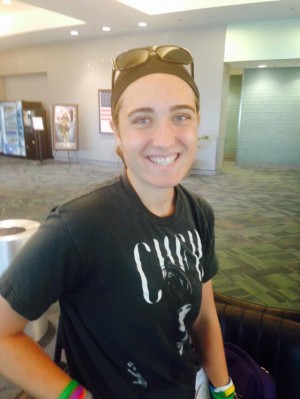 Lucy DiBenedetto, Staff Writer
Lucy is a senior at WHBHS and is thrilled to be contributing to The Hurricane Eye for her fourth consecutive year. She spends most of her time competing...