Cooking With Three Friends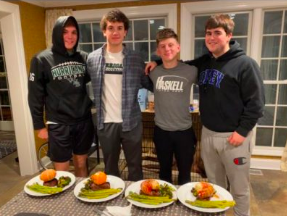 They say that kids can't cook. Well these three friends from a kitchen in Remsenburg know how to cook a meal. 
It started off with fishing in the summer and on weekends. They would bring home the caught fish and cook it. They went from just cooking their own fish, to buying all different foods from seafood markets, butchers, grocery stores, etc. It turned into a full -fledged cooking operation in a matter of a few months and now they are cooking delicious meals for family and friends.
In this story we head to the Citarelli household in Remsenburg on a hot day in August. Three friends are loading up the truck with their fishing poles and tackle, getting ready for a day of fishing on the water. They are going fluke fishing. After a long day of fishing they come home with around four or five fluke. They decide that they aren't just going to filet them and cook them, but they decide to make a fish taco recipe.
After they get home, they filet the fish and cook it like usual, but this time they gather tortillas, and all the ingredients for fish tacos. They made fish tacos, and they were delicious. This was the birth of an idea for the three friends. They decided that they would go fishing every week and cook what they caught. 
When the fishing season closed they branched out and started cooking other things. Steaks, pastas, chicken, etc. Almost every week they were cooking. And it was good food, too.
I spoke with the man behind the kitchen, Luke Citarelli. "What got you into cooking every single week?" I asked him. "I've always loved cooking, but after we made those fish tacos, I wanted to make more food," he responded. "I've always been good at cooking, I've never had someone teach me. I don't use recipes either. That's not the Italian way," Luke said, asked what recipes he uses or who taught him to cook.
By winter, the three friends were cooking everything to seafood pasta, to a full course surf-and-turf meal, to steak dinners. They learned to cook fast with no recipes and they all love it.
One of the three friends and chefs, Anthony Renner, shared his love for cooking. "Cooking is so interesting to me. I love putting all the ingredients together and seeing the final product. And tasting it too. I also love doing it with my friends."
Obviously the three friends don't own a house and can't cook in their own kitchen. So someone's mother's kitchen is getting tortured week in and week out. They always cook at Luke's house, so how does that happen. That's where Lana Citarelli comes in. 
Mrs. Citarelli always allows the friends to cook, and she is very supportive of them cooking in her kitchen week after week. She said, " I'm very supportive. They love doing it, they always clean their mess, and I always get a plate. Why would I not allow it?"
As more weeks pass, more cooking sessions will pass. The three chefs (I am the third) are only going to become better cooks and make better food. They're not going to stop cooking so look out in a restaurant near you!