Getting to Know Ms. Hurricane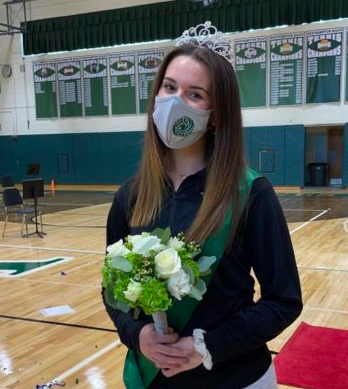 Westhampton is filled with so many amazing people. From athletes to smarties everyone has something special about them.
Although this school year has been a struggle and disappointing for most, senior Ella Donneson has made the best of it.  Having a senior year without a pep rally didn't stopping WHB from celebrating the winner of Ms. Hurricane, Ella Donneson.  Ella shared how senior year is going for her. 
Senior year has definitely been different than any other year. "It's definitely been different and difficult, but pretty good overall," she says.  
A highlight was the crowning of Mr. and Ms. Hurricane. Ella says, "I feel very honored that my peers and teachers voted and nominated me for Ms. Hurricane. I was very happy and excited!"
Being a leader is very important to Ella, and she has many leadership roles in the school.  She is an officer in Student Government and a member of the Hurricane Watch crew.  Currently she is excited to be playing girls varsity basketball again.  Molly Skorobohaty, one of her teammates, said, "Ella is one of the most positive people I know. She always has a happy outlook on life and everything she encounters." 
Ella's great reputation isn't only with her peers. Mrs Mett. said, "I taught Ella English in 9th grade, Journalism in 10th, and now I have her as a senior in Broadcast.  So, I am lucky to have taught her three out of her four years in high school. She is a kind soul who is always willing to do whatever needs to be done."
As for the future, Ella will be visiting colleges over break, like Baylor University and The University of Wisconsin. She is also considering Tulane.  
No matter where life takes her, Ella will always be on the right track. Whichever college Ella chooses will be super lucky! We all wish you the best of luck Ella!