Christmas During COVID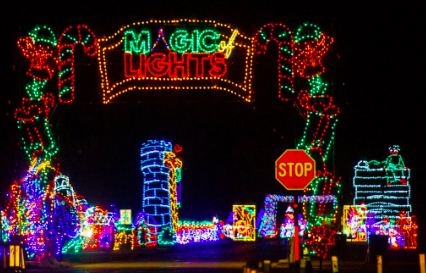 Christmas during COVID… the most wonderful time of the year? Christmas is supposed to be a time full of family, friends, and Christmas spirit, "the most wonderful time of the year", but with COVID it's feeling a little different this year. 
A great way to get in the Christmas spirit this year is to take a trip to one of the many light shows on the island. Junior Kayla Graves said, "It's a great thing to do with friends during the Christmas season. You get to experience lights and attractions while remaining safe in your car, like at the drive through light show at Jones Beach."
Light shows are completely drive through so it's a fun and safe Christmas experience. Senior Joey Colucci says, "It's always so fun to drive through and see all the lights. It's magical. My favorite part is all the different color lights." This light show is sure to bring Christmas spirit to all!
Light shows such as Jones Beach are very affordable, $25 per vehicle, and all covered with lights and attractions to create a magical, family fun experience.
https://magicoflights.com/events/jonesbeach/
The dates are now- Jan 22nd 2021. They are open Sunday-Thursday from 5pm-10pm and Friday-Saturday from 5pm-11pm. You are able to order all tickets ahead of time online! Another great light show close by is the Holiday Light Show in Calverton. http://riverheadlightshow.com/ The tickets are $23 per vehicle and tickets can be purchased online or on site. The dates are now-December 30th. They are open everyday 5-9, except Saturday and Sunday, until 11pm. 
Living life through this pandemic is rough, especially around the holidays. Just remember there are plenty of fun and safe ways to enjoy Christmas this year with family and friend's.