Keeping COVID under Control at WHBHS!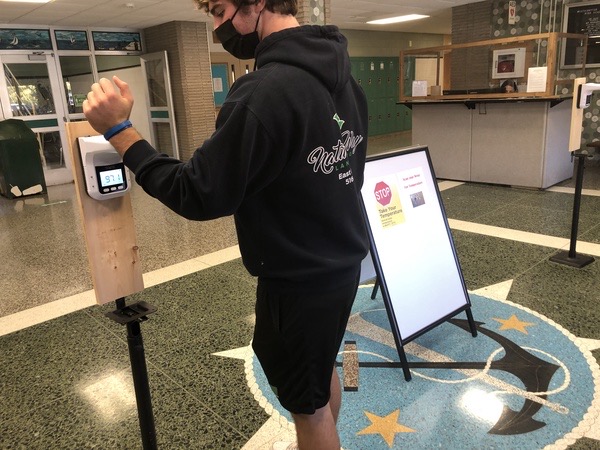 This summer, WHBHS administration needed to develop a plan to get students back in school. With new safety protocols and procedures, after two months, it seems to be under control. We caught up with the Principal, Dr. Herr, to see the success of these actions.
Six months of no school is a long break for anyone, whether it includes students, teachers or even other staff members. "It took a lot to get back here," Herr said. "I was on my hands and knees collecting measurements and taping the stickers to the floor for socially-distanced walking."
Reopening during COVID-19 was not an easy task. New York state gave schools guidelines and safety procedures that needed to be followed. WHBHS split students into two cohorts- A/C-B/D, which alternated days and kept the school population in half.
Once the school was reopened it was very different to everyone and most didn't like it. With weeks going by, students began to understand that this was the new norm and they just had to deal with it.  
Although everything was set for success, a minor setback for a major comeback occurred. Within the second week of school, WHBHS got their first COVID-19 case. School shut down and got a deep clean but luckily returned after a day's break. Over a hundred students and staff were quarantined by the Department of Health.
The seriousness of this virus hit everyone and made us realize guidelines needed to be followed. And two months later, with no new cases, in-person extra help was introduced on November 2nd.
So far the efforts of keeping WHBHS open have been extremely successful in many people's eyes, especially Dr. Herr's. He said, "Well done on handling and containing the virus. We need to remain doing what we have been doing to continue moving forward, moving forward consists of extra help reopening and a possible return of sports and clubs and many other after school curriculums."
If the school continues to be successful in their acts to contain the virus, Dr. Herr said, "What's next to come is that sports will return with intramurals and shortened seasons. Also we hope that we can add more kids to each day for a potential school year as normal as possible."  
Lastly, Dr. Herr thanks each and everyone of you for being understanding and cooperative during these hard times. 
WHBHS we're in this together! Stay Safe!