2 is the new 10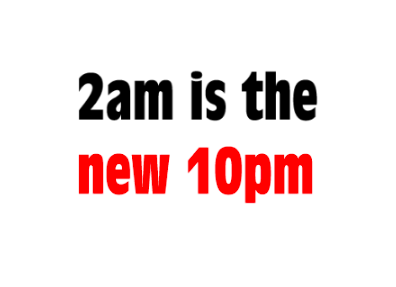 Olivia Rongo, Staff Writer
May 4, 2020
How many hours of sleep have you been getting during quarantine?
I can bet it's not enough. Or if it is, it's only because you're sleeping until 12 or 1pm. Many students of WHBHS have been affected in different ways throughout this quarantine. One of those ways is going to bed at a very late time. The universal 2 am is the new 10 pm is trending over Instagram, Twitter, and Facebook. Kids then get up at a later time as well, which can start to cause problems for them mentally and physically. 
I know that I have not been going to bed until very late recently. Usually I end up going to bed at around 3 am. This also means that I wake up at around 1 pm. I know this isn't good for me, but I just can't seem to fall asleep, and end up watching Netflix or even doing homework! A bunch of WHBHS students have been doing the same. 
WHB junior Caroline Henke's sleep patterns for the past few weeks have been very similar to mine. Caroline has "100% been going to bed later since quarantine started. When school was going on the latest I went to bed was like midnight but now I cannot seem to get tired until like 3 am. This is an every night habit." 
When asked what she has been doing she said, "Netflix shows keep me super busy at night and time just flies by. I also have been painting a table which makes me stay up until almost 1 am some nights just painting." Like me she has been waking up late. "I wake up anywhere from 11 am to 12:30 pm unless I set an alarm for a zoom call." 
Physical activity is important at times like these where kids don't have after school sports to engage in and it's good to know that students like Caroline have been staying healthy. "Physical activity depends  on the day truly. We have weekly lacrosse workouts posted for everyday so that motivates me to go to the turf and get some exercises and workouts in. When it's rainy and gross out I rarely do anything though."
Many of my friends have been experiencing the same thing as well. Sophomores Lily Berchin, Madison Quinn, Jessie Dunn, and Madilyn Dackow have also been going to bed later. They all have been watching Netflix and scrolling social media late at night. While Madison, Jessie, and Madilyn have not been doing anything to try to fall asleep, Lily has found that putting her phone away helps a little bit. They all have been getting up at a range of times that is from 8:30am to 12pm. They also engage in physical activity.
While many people that I talked to are just watching Netflix, there are also many other things keeping them up at night.  Many are either staying up to do homework or playing Xbox. 
Studies show that the cause for most of this is that people don't get up and moving in the morning and when things slow down, people tend to sit in bed and think about things which causes them to be restless.
There are some things that people do to try to help this problem. Physical activity is extremely important and happens to be one of those things that people are doing to try to solve this problem. Adding physical activity to your day tires you out and makes you sleep better. 
Before you stay up and watch "just one more episode" or play "one more game," ask yourself if you're getting enough sleep and if your schedule has changed because of quarantine.