Daleo Earns Top Honors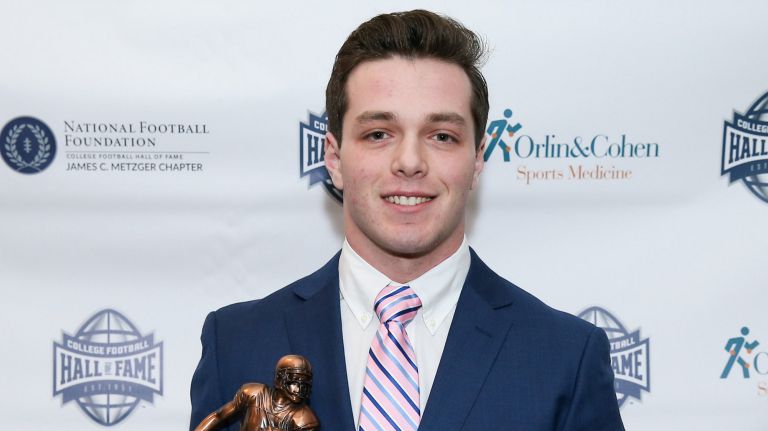 Stereotypes of "dumb jocks" have created the image that athletes are not the brightest but senior Chris Daleo recently proved this wrong. 
On Sunday, Jan 5th, Chris Daleo won the James C. Metzger Award at the Hyatt Regency in Hauppauge. He was awarded this for being the top scholar athlete for the Suffolk Chapter of the National Football Foundation.
The Metzger Award and the Golden Eleven are selected by the NFF and a committee of Suffolk football coaches. 
Chris scored a 1360 on his SAT and a 34 on his ACT. He also had a starting role at center and at defensive end as a captain for the Hurricanes in his senior season. He is also the senior class president, an AP Scholar with DIstinction and a member of the Math, Science and World Language honor societies. 
Playing a varsity sport and excelling in school is a very difficult thing to do, but Chris has some techniques to doing this; "During the season, football was definitely my main stressor so I tried to utilize my time during the school day because most of my afternoon and weekend was devoted to football." 
Chris has a few takeaways from this experience. "I'm very honored to be recognized among other great student athletes, and this experience has opened doors to a great community at the suffolk chapter of the National Football Foundation where there is great connections I have made for life."
There were many people who helped Chris reach this achievement. A few of these people are, "My parents, Coach Schaum, Coach O'Neill, the rest of my coaches, and the National Football Foundation. Also Drew Budd, Greg Sarra, and Desiree Keegan for their attention to me and the WHB football program." 
Chris does not plan on furthering his athletic career in college and has yet to decide where he will attend this fall.  Congratulations, Chris!