Hard Work Pays Off: WHB Football Players Already Preparing for Next Year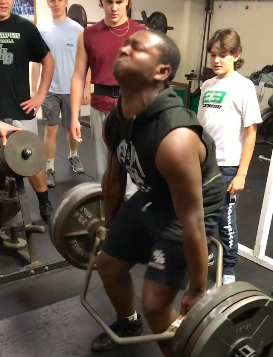 Geoff Arrasate, Staff Writer
December 17, 2019
Right after Westhmpton's devastation playoff loss to East Islip, The players returning last year have already begun preparations for next year. When asked about how the football program prepares for the upcoming season during the winter, head coach Brian Schaumloffel said, "We always speak to the players that football at Westhampton is a year round commitment.  There is a lot that goes into preparing for the season. It is not just showing up in August and practicing for the first game of the season. Our players have already started winter strength training in the weight room." 
With no true leader on the team, the juniors have collectively filled the role, and given the sophomores a lead to follow. To the coaches, "When all the players on the team take on a leadership role within the team, good things happen."
The winter workouts allow the team to be together for longer before the season starts to increase chemistry and an increased sense of unity. But the offseason does not end there. 
Following the winter, when it warms up, in the spring, you can expect to see the lineman working out on the weekends with lineman coach Golden Ukonu, a former NFL lineman, and an alumni of LIU Post.
Come summertime, official practices start, so do the 6am workouts four days a week. 
The program hopes to bounce back and avenge their loss to East Islip which ended their season this year. However, the increased drive to succeed has not changed their mentality. When asked about next years team's mentality, Coach Schaumloffel said, "I do not think the mentality nor the expectations have changed for our program.  We always enter the season with the expectation to play at Stony Brook University for championships and practice on Thanksgiving morning."
Expect big things from the football team next year, and expect big plays in even bigger moments.