Sophomores Making Their Mark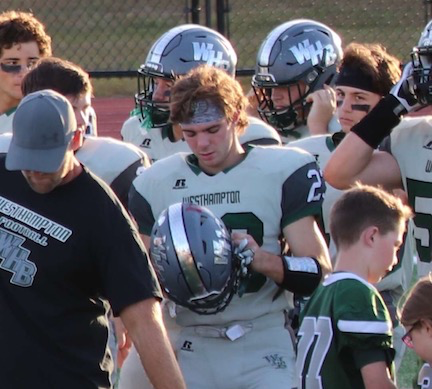 Touchdown! An intense season of Westhampton Beach High School football is upon us once again. For the 2019 season, The Hurricanes varsity team made a rare move. The coaches increased the potential of their team with the addition of three sophomores. These players add value to an already strong group of young men who have a history of making it to the Long Island Championship. 
The level at which student athletes play sports increases from JV to Varsity. In some sports this level of play may not change drastically, but when football is concerned, it's a different story. The transition from JV to varsity is heightened in this sport. Not only are athletes playing stronger and more competitive games, but other differences exist. For example, there's a boost in the fan base at games,  and increased pressure to succeed, and a hike in school spirit surrounding games. 
Playing as a young member of a senior team is quite a task for sophomores. Robert Moreland, a cornerback and one of the new sophomore varsity players says, "At home games, being on Varsity is on another level." He claims, "It takes guts to get out there in the game with around 400 people per game when people are screaming negative and positive things at you." 
Robert Moreland, along with Deegan Laube and Erich Schaumloffel are emotionally and tactically smart on and off the field. Coach Doroski confirmed, "These boys work hard, and have the skill level" needed to play on varsity. He added, "If we have a particular need for a certain position to be filled" that this coupled with hard work can get you playing at the Varsity level. 
Moreland, Laube, and Schaumloffel are in some way are role models for the upcoming stars. They are future captains who will have three years of varsity football experience by the time they are seniors. The and the next generation of Hurricane football players should look up to these boys because they've got what it takes.