Last Dance: Club Boogie Closes its Doors
Hang on for a minute...we're trying to find some more stories you might like.
If you have been to the haunted walk "Spooky Walk" in Center Moriches, then you have encountered this exhibition. But the cast of characters that annually comes down to the club is taking the floor for their last dance. As a volunteer at Club Boogie, I was able to speak with our house leader Nicole Jakob.
Club Boogie has been entertaining haunted house goers for eight years. But why was it the year to call it quits? Ms. Jakob says that it's because of the help. Many of the people that volunteer their time at the house are headed off to college, citing that they are a major help during set up and the event itself. She also stated "it was a good time to close it out after eight years."
But the fan favorite house doesn't always look like Club Boogie all the time, it is setup by volunteers. While it sounds easy, Ms. Jakob says it is quite daunting. With such a large space, every nook and cranny must be filled with something visually engaging but also condense all of the items that go into it. For example, people are invited to stop for a picture in the "R.I.P Lounge."
Over the years, Ms. Jakob claims that Club Boogie has grown and gotten better due to its many volunteers and their interest in the house "people that have walked through have volunteered, it's always good to have a pair of fresh eyes."
Each year, Spooky Walk itself has broken its fundraising record year after year. How has Club Boogie contributed? According to Ms. Jakob it is simply making the haunted walk more fun "we make it fun for people who are too scared for the rest of Spooky Walk, they come in and they are smiling."
Over the past eight years, Ms. Jakob and the crew at Club Boogie have had amazing costumes. Ms. Jakob shared a picture of herself, in her favorite costume.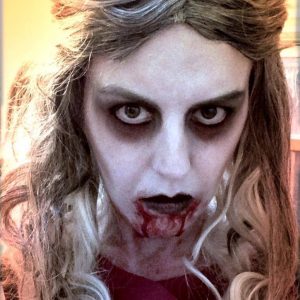 Club Boogie has already made the fan favorite list as it has already won the best house trophy every year since 2013.
Her favorite year so far has been the first year that they were in the building they currently are in. 
But what she will miss the most is getting together with all of the other volunteers and to help out Camp Paquatuck, a summer camp for individuals with special needs. "to see all the things the camp has done with the money is just amazing."
Although Ms. Jakob is retiring from her position of leadership at Spooky Walk, someone may yet step up and take charge of the house themselves.