Spring Musical a Success!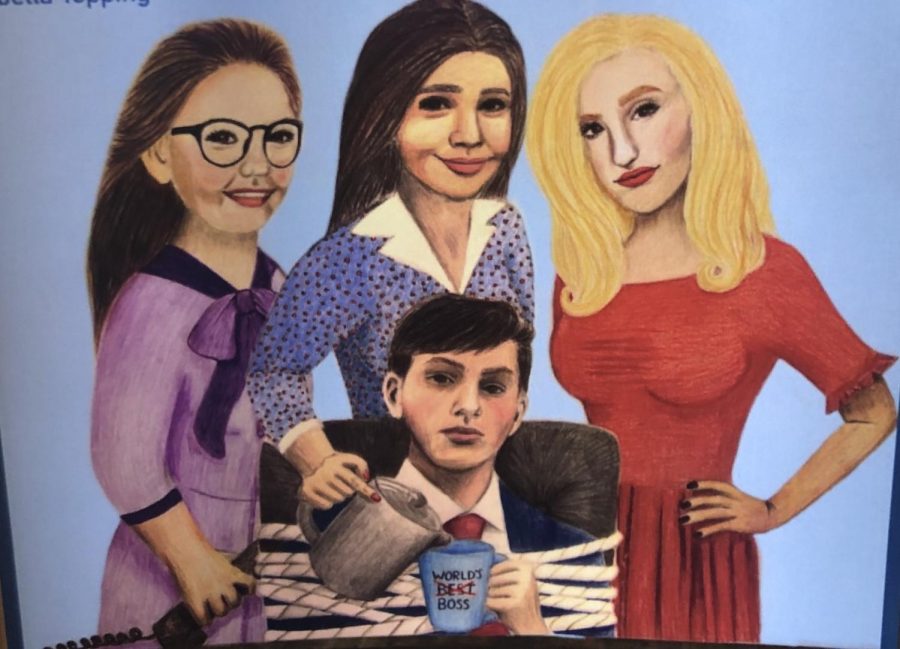 The WHB drama club has done it again! This weekend the musical 9 to 5 was performed by the very talented cast of WHB's drama club.
This play takes place in 1979. Three female coworkers, Violet Newstead, Doralee Rhodes, and Judy Burnley, all come together and try to get revenge on their boss for the way he's been mistreating them.
Franklin Hart, their boss, is an arrogant and sleazy sexist. Everyone in the office hates him and the women decide that it's finally time to stand up to him. When Violet unintentionally poisons Hart, he blackmails the women, threatening to take them to the police. In response to this, the women decide that they will keep him locked up in his own house while his wife is away.
While Hart is locked up, Judy, Doralee, and Violet take over the office for him. They introduce great new ideas for the office and attempt to gather evidence that proves Hart has been embezzling from the company. Hart ends up breaking free and tries expose the women for locking him up, but the chairman of the board arrives, sends him elsewhere, and promotes Violet to CEO. The play ends with everyone happy, knowing that the office will be much better with him gone.
The cast of 9 to 5 and their director, Rosemary Cline worked very hard to make sure that the play would run smoothly. Actress Molly Brennan, who played Margaret in the musical, said, "We have been preparing since mid-November and have had rehearsal basically five days a week since then." With hardly any days off, these actors have definitely been putting in the work, and it showed!
This musical was different from anything the actors have done in the past. The drama club usually puts on more serious plays and musicals, but 9 to 5 was definitely less serious, and a was a funny more comedic show. "… It was a nice change," said Isabella Galway, who played Doralee.
This was the last showcase for the 2018-2019 school year, so for the seniors this was definitely a bittersweet moment. I asked senior, Isabella Galway, how she feels about this being her last show at WHB. "It's kinda bittersweet, It's nice to know I'll be moving onto new things but i've grown so much as a person and performer through the high school shows and it's weird that I won't get to do them again since it's been such a big part of my four years here."
It was bittersweet for the seniors, as well as the juniors and underclassmen too. These actors have been performing together since their freshmen years, so saying goodbye is not easy. Molly is upset to see them go.  "I am so upset that the seniors are leaving… I am so close to them and they were here when I joined the theater department and I can't imagine it without them!"
All these actors hard work and effort really showed, and the drama club put on an excellent show! Although they are losing many amazing actors and actresses this year saying goodbye to the seniors, the talent that is left will assure for many more amazing shows!