New Year For WHB Baseball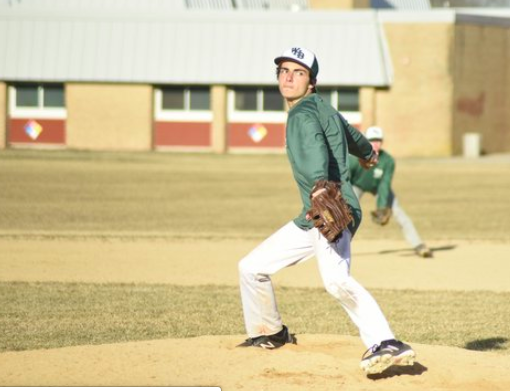 Hang on for a minute...we're trying to find some more stories you might like.
As winter rolls into spring, it's time for WHB baseball again. The team has begun to prepare for the upcoming season with their new coaches.
WHBMS math teacher Mr. Grunenwald will be coaching the varsity team and WHBHS social studies teacher Mr. Smith will be coaching the junior varsity team.
Grunenwald attended St. John's University as an undergraduate and played D1 baseball there for four years as a catcher. According to NCAA.com, St. John's is ranked 33rd in the U.S., making it one of the best college baseball programs in the country.
After attending St. John's, Grunenwald continued his love for baseball as an assistant coach at Hofstra University. He then led Bayport-Blue Point high school to two state championships.
Coach Smith played on his high school's varsity team with Toronto Blue Jays ace pitcher, Marcus Stroman and even played against Mets pitcher Steven Matz.  After college, he coached at Patchogue-Medford high school for six years as a varsity assistant. Today, he teaches Global History, Government, and Psychology at WHBHS.
When asked about the upcoming season coach Smith said, "I think we have been putting in good work this offseason, my main goal is to be competitive and successful at both the varsity and JV levels.
Junior Coady  Sumwalt said, "I really like the new coaches. They are very knowledgeable. I think they will definitely help our program get better."
The teams faced off against Hampton Bays in the first scrimmage of the season on Monday, March 18th at 3:30pm. Both the JV and varsity teams came out on top as they easily defeated their opponent. Coach Smith said, "We did a good job, however there is a lot of work still to be done."
On Wednesday March 20th both team traveled to Center Moriches for their second scrimmage. JV defeated their opponent easily and had a very successful day. However varsity unfortunately fell to Center Moriches 7-3.
The JV team hopes to keep their momentum going in their scrimmage against Bayport- Blue Point on Monday March 25th. Varsity hopes to rebound from the loss on Wednesday in their non-league game  on Friday March 22nd against Southampton.