Mustaches and Mullets!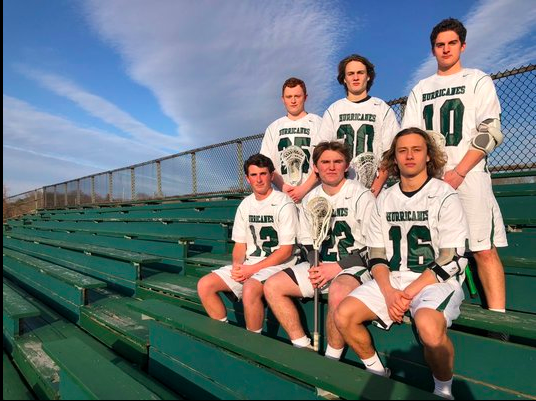 Mustaches and mullets are the way to go for the boys lacrosse team, who are making a statement this season in hopes to rally some team pride!!
The Hurricanes finished last year with a record of 10-6 and are ready to come back and redeem themselves.
After losing two starting captains, Dylan Laube and Craig Connor to graduation, the team now has to work harder than they did before. Junior Matt Leotta, said, "We are very confident in having a winning record this year and most importantly getting to playoffs." Their biggest rivals this season are Hills West, Shoreham Wading River, and Comsewogue.
Seniors Jack Gilbride and Tyler Nolan are excited for the upcoming season.  According to Tyler, "The whole team is striving for a playoff position and we have to win one game at a time." He is committed to Jacksonville for lacrosse along with their outstanding goalie, Andrew Arcuri, who is committed to Sienna.
Sophomore Robert Moore and freshman Robert Moreland are getting a lot of playing time as underclassmen, both starting.  Jack Gilbride says, "Moreland is great at taking face-offs and is very humble when it comes to playing." Robert Moore left to go to St. Anthonys but decided to come back to play lacrosse for Westhampton.
Most boys on the team got dyed mustaches and mullets. Matt Leotta says, "There are always things that teams do together like getting bleach blond hair or something and we are getting mustaches and mullets as a team to come together, it is like team bonding."
The boys have an exciting season ahead of them! Go Canes!