New Student Shows Spirit!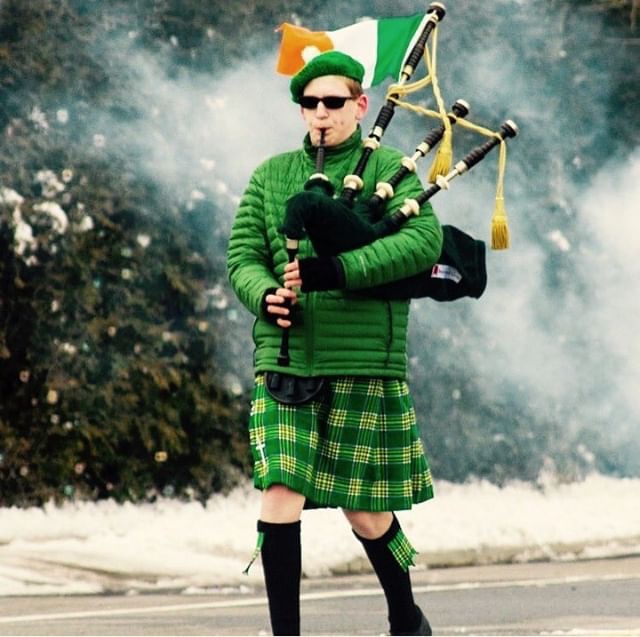 Eamon Kobel, the famous bagpiper of WHB made a surprise appearance at the pep rally and impressed everybody with a bagpipe performance on the last day of spirit week.
A junior who transferred from Mercy High School, Eamon also enjoyed bagpiping at their football games, pep rallies and during the holidays.
Eamon certainly turned heads when he came to school wearing traditional Scottish garb and sporting bagpipes.
He first started bagpiping 3 years ago after watching the bagpipers at the St. Patrick's Day parade in WHB. He would play his bagpipes at Mercy and was very well-known for doing so.
After the school shut down, Eamon came to WHB. "I was born and raised in Westhampton, but when I took the spotlight and played at the pep rally, I knew where I belonged," he said.
Eamon is sad that Mercy closed, but doesn't regret his decision on going to WHBHS. "Mercy was all about family," he said. "When it closed, everybody was upset because of all the split friendships."
Eamon has made plenty of new friends at Westhampton and he feels very welcomed here.
He decided to dress up on the last day of spirit week to show school pride and "to show WHB who Eamon Kobel is." He also said that his original plan with the bagpipes was to just play casually throughout the pep rally, but he was surprised when his classmates started cheering him on.
"It was in that moment that I knew I belonged," he said. "I knew this was when I really became a Hurricane."
Eamon was very excited to play. "It was a cool way to get more people involved," said sophomore Patricia Gilvary.
He certainly impressed everybody with his hidden talent!