Kim Comes in Clutch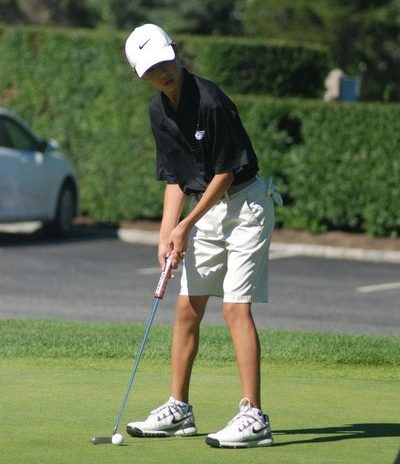 Hang on for a minute...we're trying to find some more stories you might like.
The Westhampton Beach Varsity golf Team had a tremendous season, clinching playoffs, with the help from key player, sophomore Mackenzie Kim.
Mackenzie, along with Thatcher Cord, led the team to the Sebonack Championship this year, after years of coming in second place.  According to the Southampton Press, the Sebonack Challenge is  "a best-ball format tournament between Southampton Town's four high school varsity golf teams—Hampton Bays, Pierson/Bridgehampton, Southampton and Westhampton Beach. Each school takes its top two golfers and puts them to the test on the 18-hole private course, a tradition that began in 2010, four years after the opening of the course."
Mackenzie felt their win came because of the pair's chemistry. He said, "Without Thatcher Cord by my side the whole day, I honestly don't think WHB would have came in first. It felt so good to be the first two students from WHB to win the Sebonack Challenge."
He continued, "I think the team's success comes from our chemistry. Honestly I think Thatcher and I work tremendous together."
Westhampton sent the full team to the County tournament this year.  The boys came in confident for day 2, and as a team, came in third place.  Mackenzie came in with a 79, but unfortunately missed states by a stroke, allowing him to be placed All- County.
Mackenzie will be back to play for the Hurricanes next year, along with Richard Tiska, Cole Federico, and Coady Sumwalt.
Although there are many returning players, the team will miss its seniors.  Mackenzie said, "I will truly miss Jack Tiska, Noah Sparrow, Jack Ciolino, and most importantly Thatcher Cord."