AP Capstone Course: Newest AP at WHBHS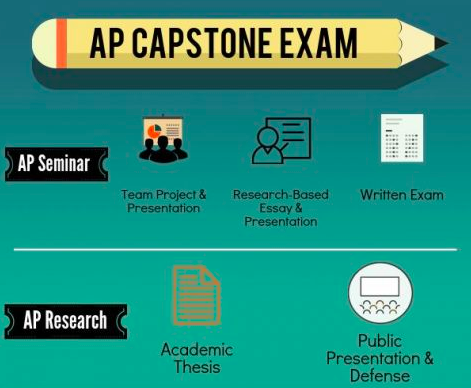 Hang on for a minute...we're trying to find some more stories you might like.
One of the newest AP programs introduced to Westhampton Beach High School, the AP Capstone is a two-year course. AP Capstone appeals to skilled writers who enjoy a challenged English class.
The first class of the program is AP Seminar, taught by Mrs. Wiles. This class is for gifted sophomores.
"This class focuses on the acquisition of research skills, presentation skills, understanding bias, understanding credibility of sources, all that sort of stuff," Mrs Wiles said.
Last year was the first time that Westhampton Beach High school offered this class. According to Mrs. Wiles, "Everybody got 3s or above. We had some 4s; we had a couple 5s [on the AP test]." Overall, the first year of the AP Capstone program was a success.
AP Research is the second class of the program taught by Ms. Bender and Mr. Rupertus, offered to skillful junior writers.
In this class, each student chooses a topic in September and conducts enough research throughout the school year to write a 15-20 page article on their topic. Also, they have to present their topic in front of a panel at the end of the year.
"This course gives them the foundation and the skills that they can build upon in college," said Ms. Bender.
About teaching the course, Mr. Rupertus said, "It's a challenge because as a teacher you are used to helping out students and really giving them guidance but the AP Research class has us take, as a teacher, a step back so it's a lot of independent work for students."
WHBHS junior Paige Rignola took AP Seminar last year and is currently taking AP Research with Mr. Rupertus.
"I learned how to write a proper research paper [in AP Seminar]," said Paige. This will help her for AP Research and with papers throughout college.
The new AP Capstone gives students the knowledge to write a quality research paper. This is a useful skill and will be used throughout the rest of high school and college.