WHBHS Students to Return Full Time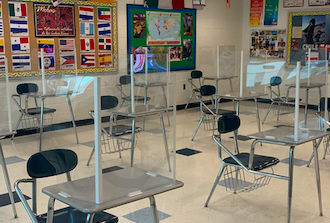 On Friday, February 26, the Westhampton Beach School District announced via email that high school students would be allowed to return to school for in-person learning five days a week after being on a hybrid schedule since September and a full remote model last spring.
The announcement came after a virtual survey sent to parents and students in the district showed that 75% of students would like to attend school in-person five days a week if given the option, showing overwhelming support for returning full time. It is estimated that roughy 820-830 students will be attending full time, with the rest choosing to stay fully remote. 
The return of students to school full time will be done in phases. First, seniors and students in BOCES will return on March 8. They will be followed by freshmen on March 11, sophomores on March 15 and juniors on March 18. Students will stay on the hybrid model until the day their grade level returns. 
Many aspects and safety precautions will be retained when students return. These include mandatory mask wearing, daily temperature checks in the morning, following direction arrows in the hallway and no class bells to reduce the number of students in hallways at a certain time. Additionally, the A/B/C/D day schedule will be kept instead of returning to the traditional A/B day schedule.
One of the biggest changes with students returning full time is that the amount of desks in each classroom will increase. As such, the desks will be closer together than they have been this year. As such, plexiglass desk shields have been placed on all desks as a safety precaution. Shields have been placed on teacher's desks as well.
One of the biggest changes will be seen in the cafeteria. Tables will be returning and will replace the desks that have been used this year. Each table will sit four students, who will be separated by plexiglass barriers. Due to the high number of students in lunch periods, overflow students will be sent to the LGI if all available table spots are filled.
The school has acknowledged that the amount of quarantines due to coronavirus cases may increase due to desks now being less that six feet apart to accommodate the number of students returning. The increased number of students on school buses, which will have students in a closer proximity than in the classroom, could also lead to more quarantines. The school is encouraging students to be driven to school if possible to reduce bus capacity. 
The return of students to WHBHS is a big step in a return to pre-Covid "normalcy". March 18 will have the most students in school since March 13, 2020, the last day of school before it shut down for the year. Stay safe Westhampton Beach!