2020 Atlantic Hurricane Season Ends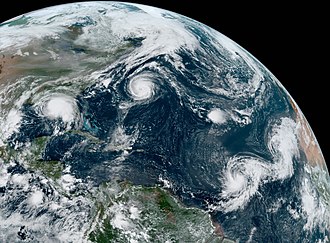 November 30th marked the end of the 2020 Atlantic Hurricane Season, closing out the most active Atlantic hurricane season in history and breaking numerous records in the process.
The season featured 31 total depressions, 30 of which were named storms, including 13 hurricanes and one subtropical storm. Six of these hurricanes were major hurricanes (Category 3 and up). The season's 30 storms now stand as the record high number of formed storms in Atlantic hurricane history, breaking the previous record set by the 2005 season.
The National Hurricane Center marks June 1 as the official start of hurricane season, but the first system, Tropical Storm Arthur, formed on May 16. Arthur's formation made 2020 the sixth consecutive year with at least one storm that formed before the official start of the season. From there, tropical storms and hurricanes formed at a breakneck rate, breaking 25 records for earliest named storm numbers in history.
September was the most active month of the season, featuring ten named storms, four of which were hurricanes. On September 14, a rare feat occurred where five systems were simultaneously active in the Atlantic basin. The last time that many storms were active was in 1971. 
In mid-September after all the names for the season were used, letters of the Greek alphabet were used for subsequent storms. This was only the second time in history that this naming protocol was used, the first being 2005. 
Areas impacted by the season included The Bahamas, Cuba, Honduras, Mexico, Nicaragua and the states of Alabama, Florida, Louisiana, Mississippi, North Carolina, South Carolina and Texas. In particular, Louisiana was the state most affected by the season, with three storms, Laura, Delta and Zeta, making landfall there.
The final storm of the season was Hurricane Iota, the most powerful storm of the season. After undergoing a period of explosive intensification, it strengthened to a Category 5 storm, the lone one to form this season. It soon made landfall as a powerful major hurricane and brough devastating effects to the countries of Nicaragua and Honduras, who at the time were still recovering from the effects of Hurricane Eta that occurred less than two weeks prior.
The season ranks as the seventh most expensive Atlantic hurricane season in history with over $41 billion dollars in damage. Additionally, over 400 people are estimated to have died because of the season.
While the season did not feature many powerful or significantly costly storms, they formed earlier than ever before, travelled further into northern waters and made landfall more often than storms in recent years. The season also used nine Greek letter names, more than the six letters used in 2005. 
The 2020 Atlantic Hurricane Season was a season that will not be forgotten and may serve as a glimpse to what future hurricane seasons will look like in the 2020s.