White House Becomes Coronavirus Hotspot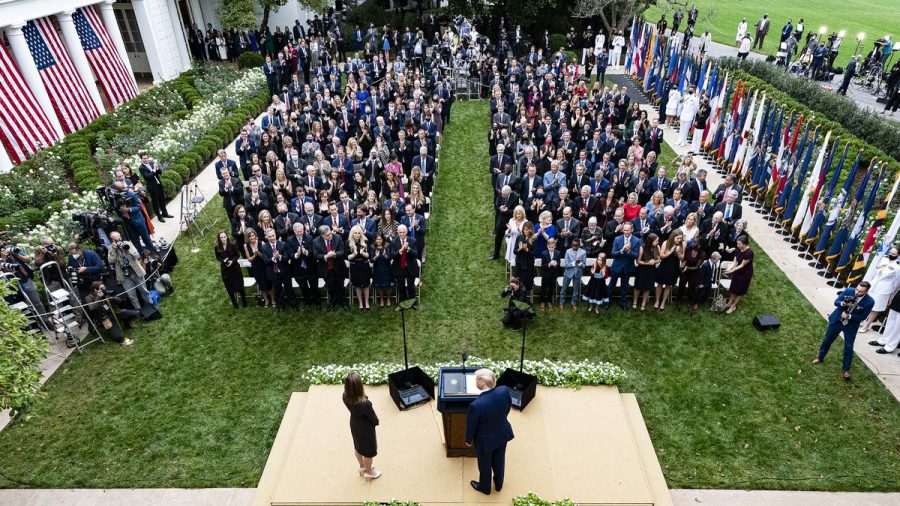 After the announcement that President Donald Trump and First Lady Melania Trump tested positive for coronavirus last Friday, many other politicians and figures in Washington announced that they had contracted the virus after coming into contact with President Trump.
These new cases are linked to an event held in the Rose Garden at the White House on September 26 where President Trump announced the nomination of Amy Coney Barrett to fill the vacant seat on the Supreme Court previously held by Ruth Bader Ginsburg. Many of the people attending the event did not wear masks, failed to maintain social distancing and hugged and shook hands with each other. 
Three senators at the event have confirmed they have tested positive for coronavirus: Ron Johnson (R-WI), Mike Lee (R-UT) and Thom Tillis (R-NC). Other notable names of those who tested positive include former New Jersey governor Chris Christie, former counselor to the president Kellyanne Conway, University of Notre Dame president Rev. John Jenkins, Republican National Committee chair Ronna McDaniel and counselor to the president Hope Hicks. Hicks was the first person to announce that they tested positive, with her announcement coming out last Thursday night prior to President Trump's announcement.
Additionally, Senators James Lankford (R-OK) and Josh Hawley (R-MO) have decided to self-quarantine out of caution after attending the event.
There are also members of President Trump's inner circle who have been in close contact with him who got back negative coronavirus test results. Notable names include Vice President Mike Pence, Secretary of State Mike Pompeo and senior advisors Jared Kushner and Ivanka Trump.
It is also worth noting that Barrett contracted coronavirus over the summer, but had recovered by the time of her nomination and wasn't showing any symptoms at the event. 
The CDC recommends that anyone who tests positive for coronavirus or comes in contact with someone who tests positive to quarantine for at least two weeks. For President Trump, those two weeks represent a critical loss of time for his campaign which has relied on large in-person rallies. These rallies have been cancelled and there is much speculation as to whether the remaining two presidential debates will still occur.
The positive diagnosis of three senators has also delayed the next meeting of the full Senate to October 19. Despite these positive tests, Senate Majority Leader Mitch McConnell (R-KY) has announced that the Senate will continue with Barrett's Supreme Court nomination, with the Senate Judiciary Committee hearing set to begin on October 12. This may subject to change due to Committee members Mike Lee and Thom Tillis contracting coronavirus, though McConnell has insisted that they can attend the hearings virtually. 
Overall, this latest cluster of coronavirus cases in Washington D.C. could have major political ramifications, including putting senators up for re-election in tough races and delaying the nomination process of Barrett.