Hurricanes Make History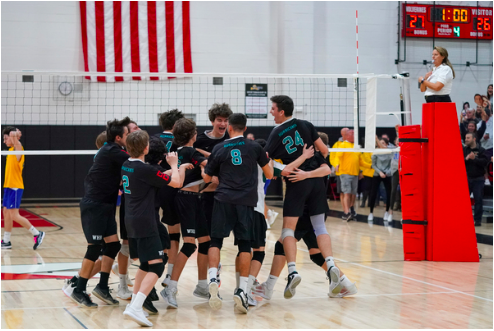 The boys volleyball team beat Hauppauge on Monday, November 11 to win the Suffolk County championship for the first time in school history!
After a devastating loss in the first round of the playoffs last season, the boys are headed to the Long Island Championship!
The team has accomplished only some of their goal being to win the LIC and go to states.  
The win was led by captains Blake Busking and Matt Lambert, along with Ryan Barnett, who is a junior committed to Pepperdine University.
In the fourth set, with WHB leading 24-19, the boys were one point away from the win. The Hurricanes kept it cool when Hauppauge made a comeback, pushing the score to 26-25. The boys then made three consecutive points to win the game and start the celebration. 
  "It's just a little surreal," Reed said, to Newsday explaining his thoughts about the game. 
But the boys aren't done yet, Barnett and Haber are hoping to go all the way to states by, "working together, staying calm, and taking every serve point by point."
Come support the boys on Tuesday, November 19th at 7pm at Farmingdale University as they play in the Long Island Championship.  Go Canes!