WHB Makes a Run for LIC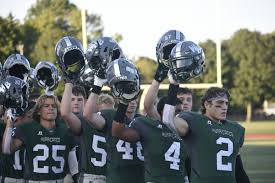 The WHB varsity football team is heading into the semifinal round of the playoffs with hopes of winning another LIC with their 7-1 record in the regular season. After coming off a tough loss in week two to Sayville, the Canes went on a six game winning streak. 
After the tough loss last year in the SCC, the team had big hopes for this season. Senior wide receiver Paul Boutin said, "The loss in the county final last year was tough because we got so close, and that feeling of getting that close to come up short was something we never want to repeat again." 
This year many sophomores got pulled up on varsity and made a difference.  One of the new additions is starting cornerback Robert Moreland.  He felt, "The biggest change from JV is that the size and skill of the player are better." 
Rob has adapted well to the whole varsity scene and most of the 10th grade pull ups are adapting well.
The team also had to adapt to new players having to step up and fill new roles.  Senior Aidan Cumisky said, "This year we knew some kids who hadn't played before would have to step up and play important roles this year.  As senior I realized it was our last shot; this team's legacy is going to be on us."
The team has been working harder than to get back to LIC. Come out and support the Canes this Friday as they take on East Islip at home in the semifinal round of playoffs.  There is a $5 entry fee with a student ID, $10 without.