Mercy Students Adjusting to Life at WHB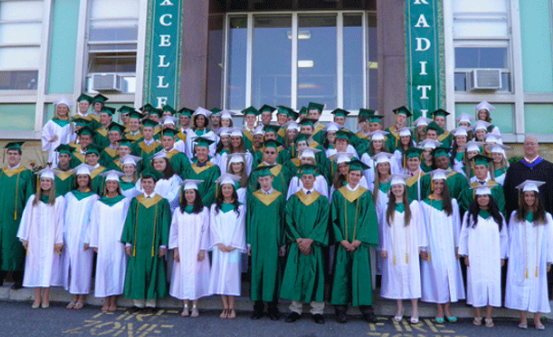 Students from the McGann-Mercy community and their parents are slowly adjusting to how things work at WHBHS. Mercy High School was abruptly shut down in June, leaving many students and their parents puzzled as to where they would be going to school next. Some of these students decided to come to WHBHS.
The periods and times are different, and senior Sean Ashley said, "It takes time to get used to a new daily cycle." Mercy students started school an hour later, so it does take time to get used to an earlier starting time. Also, Westhampton is a lot bigger than Mercy was, so students could easily get lost.
Dylann Hanrahan, a sophomore, also went to Mercy. She says she misses uniforms, since wearing a uniform everyday can take away the stress of choosing an outfit for school every day. She also misses how close everyone at school was, because you knew everyone when you walked down the halls between classes and before and after school.
Sophomore Lola Anderson really misses all of her friends from Mercy. Many Mercy students decided to go to St. John's in West Islip or St. Anthony's in Huntington. "I miss my friends a lot, but I feel welcomed here," she said in an interview.
Everyone felt heartbroken and betrayed by the Diocese of Rockville Center when Bishop John Barres announced that the only Catholic high school on the east end would be shut down at the end of the school year. People were very angry with the way they found out, too.
During school on March 12th, an announcement was made that every sport after school would be cancelled and that everybody would need to take the bus home. Around 4 o'clock, everyone got a phone call from the school, which told us to check our emails. The email contained a link to a YouTube video. In the middle of the video, the Bishop announced that McGann-Mercy would be shut down at the end of the year due to rising costs and low enrollment.
Coach Doroski, who was a varsity football coach as well as a gym teacher at Mercy, is also adjusting at Westhampton. He now coaches JV football and is also a gym teacher here at WHB. The sudden and unexpected announcement that the school was going to close didn't only leave students confused, but also left many teachers scrambling to find new jobs to avoid unemployment. Hearing the announcement at the emergency faculty meeting in March was like "being at a funeral," similar to "a death in your family," according to Mr. Doroski. He, his parents, and his wife were all alumni of the school. His son had also been attending the school at the time of the closing.
Coach Doroski also said that having to apply for new jobs at different schools and districts was "a nerve-wracking experience" as physical education is a "very competitive field." He was very relieved when he found out he got the job. He also said that many of his former coworkers have found jobs and moved on as well, though some unfortunately have still not been employed.
However, the Mercy Monarchs still live on as Hurricanes, Friars, Cougars, Baymen, Blue Waves, and Mariners. Roll Monarchs!