After 36+ Years: Duca is Done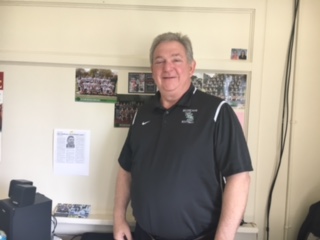 Hang on for a minute...we're trying to find some more stories you might like.
After 36 and a half years of teaching and "improving student outcomes," beloved social studies teacher and Coach, Mr. Duca is retiring.
Mr. Duca, alum of Adelphi University, first got into teaching because, he says, "I had two paths I was interested in. One was the Naval Academy, and my second path was teaching. And as fate would have it, an injury my senior year prevented me from entering the Navy. I've always found teaching interesting, fun to do, and an important job."
Towards the beginning of his teaching career he served "as Dean of Students and during that period of time I was responsible for student discipline for grades 9-12." However, later in his career he stepped back down to being the social studies teacher we all know and love.
Mr. Duca said he first started coaching because it was almost a requirement for his first job. After his initial experience coaching and, "learning from some great, great coaches," he has since continued coaching and devoting time to our JV football, JV girls' basketball and JV girls' lacrosse athletes and plans on continuing to do so once he retires.
Ms. Rafferty, assistant JV girls' lacrosse coach, stated, "Mr. Duca is always trying to challenge his players and encourages them to reach their fullest potential. He treats his players with respect and he tries to be fair to everyone."
Freshman lacrosse player Jocelyn McNamara said, "He was always very helpful and encouraging, and he always made sure I was okay after rough games and if I was ever upset about missing a save he would reassure me." She continued, "He taught me that lacrosse is truly a team effort and no matter how good you play one day, the whole team has to be encouraged to succeed."
Life lessons like these are what Mr. Duca will miss the most. He said, "I'll miss interacting with the students the most, but definitely not grading papers."
Mr. Duca shared, "It's been a great experience to be a teacher.  I've met so many wonderful students and parents that as I retire I still hope to do something positive and give back to the community."
"You know in some ways my life will change a lot after retirement; I plan on traveling and doing some things I never had the time or before but in other ways it may not be that different, as I hope to continue coaching at least a few sports, and it certainly will give me more time for family and friends."
Well wishes from students:
Hannah Donneson: "Having him 10th period in 8th grade was a bright way to end my day; he always made me smile."
Jack Beyernheimer: "As both my teacher and my football coach, Mr. Duca really taught me a lot. Not only about social studies, but about life.  And for that, I am forever thankful and hope he thoroughly enjoys his retirement."
Maggie Alford: "I enjoyed his class in seventh grade and I hope he enjoys retirement."
Juliette Seeliger:   "I wish him a very happy retirement."
Emma McCarthy: "He was a good coach. I learned a lot from him and really improved my skills. Happy retirement."
Erin McCarthy: "He taught me to always push myself because I am capable of many things I thought I couldn't do. Happy retirement"
Krysten Rohan: "Happy retirement!"
Daelyn Dagastino: "He is a good teacher who cares for his students and tries really hard. I hope he enjoys being retired."
Brianna Herbert: "Thanks for the great memories. Enjoy your retirement"
Mrs. Mett: "When I was in high school, Mr. Duca was the assistant principal, and I was his student helper.  I later taught all three of his children.  I wish Mr. Duca a relaxing retirement and hope he enjoys the time with his family."
Owen Travers:  "Mr. Duca has been a great teacher, and has made my first year of middle school great. He's very dedicated and always keeps us on task. Thank you Mr. Duca and happy retirement!"
Zach Zaffuto: "He's a very great social studies teacher and I hope he enjoys his retired life."
Ms. Rafferty: "I hope you relax and enjoy your retirement – it is well deserved. Congratulations!"
George Niflis: "I hope you have a very happy retirement and enjoy your life."
The Hurricane Eye wishes Mr. Duca a happy retirement!  Thank you for your dedication to the WHB community.