Jeanne "The Queen" Lotito: More than just a Teacher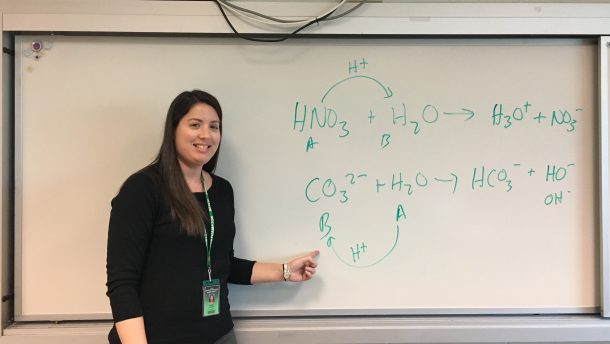 The science wing has a new addition to the group, and no, you don't need sig figs for this one. Chemistry teacher Mrs. Lotito has made her first year at WHB entertaining, not only for the students, but for herself as well.
Mrs. Lotito graduated from East Islip High school.  Getting a partial scholarship to UConn was just the beginning of Mrs. Lotito's teaching career.   She began her career in Queens and over the years, has found "new ways to present material and engage students."   She has found that "students' personalities are similar," when comparing her students now to those from Queens.  A difference about teaching here, she says, that now she's driving to school, instead of walking.
Students this year appreciate her ways of teaching.   Sophomore Julia Worthington said, "I enjoy her teaching style on how we do both notes, labs, and work in groups when we do packet work."
She not only teaches Chemistry but she taught sophomore Cassidy Canberg, not to "stress about the minor things in life when you're looking at the big picture."
When Cassidy was asked what her favorite Chemistry memory was, it was too tough to answer because she "loves every day."  We would like to thank Mrs. Lotito for making everyday a great day.