VE's Zenith Heading to National Competition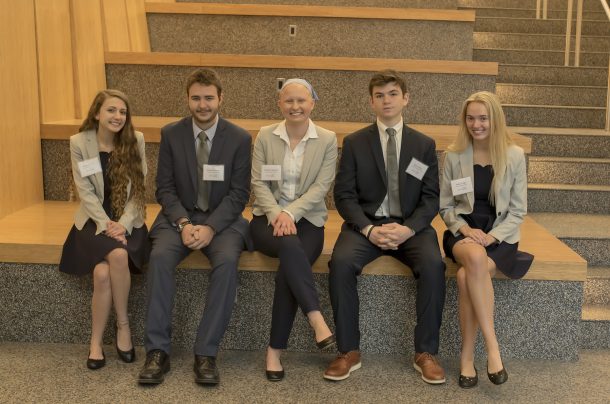 Zenith, one of WHBHS's two Virtual Enterprise teams, has advanced to the National Business Plan Finals, which will be held in April.  The team placed 2nd out of 72 teams on Long Island.The team of students, Nick La Mura, Skyler Trager, Rachel Glover, and Keenan Kossman, won after competing at the semifinals on March 1st and at the regional competition on Jan. 17th.
La Mura said,  "Our team's dedication and perseverance carried us through semi-finals into the national competition."
In a press release, the Virtual Enterprises' teacher, Ms. Demchak stated, "The students in Zenith have successfully prepared and implemented every possible function of their virtual startup business. From delivering a sales pitch to local businesspeople who serve as angel investors, to visiting Stony Brook University to develop a partnership with the Advanced Energy Research and Technology Center, no stone was left unturned."
Zenith's winning business plan includes the production of virtual products using PLA plastic, a natural recyclable material that is made from sugar cane, tapioca roots and corn starch.  Trager said, "We tried to differentiate ourselves and worked together to develop an innovative new company that would stand out."
"15 students entered our Virtual Enterprise class in September as typical business students, but they have fully evolved into professional employees of a startup drone company, Zenith. VE is an incredible experience for high school students, fully immersing our youth in a hands on business simulation that teaches them valuable skills to prepare them for college and the workforce," Demchak continued.
WHBHS's other team, Prizm, placed 5th on Long Island.  Only the top 4 teams on Long Island advance to the National Competition.
Congratulations to both teams and good luck at the National Competition!