Great Graduation Party Ideas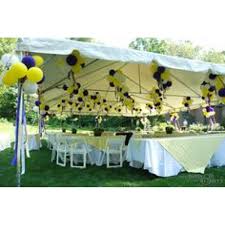 This time of year the seniors are graduating and are excited to celebrate at graduation parties. The seniors love the graduation parties because it gives them a chance to celebrate their success in high school. Some of the seniors are struggling on ideas. 
A big part of the graduation celebration is the food, which can make or break a party. Senior Logan Rodgers said "I'm super excited for my food. I'm having a nacho bar and hope everyone is going to enjoy it." This is one of many ideas. You could also do a taco bar, BBQ, or even have it catered by local favorites Justin's Chop Shop or Funchos.
Besides the food there has to be fun activities like corn hole, Spike Ball, dice, or music. Senior Luke Kilroy said , " I'm most excited to play Spikeball. I love how competitive and fun it is."  
The last big thing is the location. Most seniors have parties at their house. A Lot of people use big tents or have it inside. Tents are very useful because they provide room for a lot of people, protect from weather issues, and it's outside. Luke said, "I'm using a tent because I can fit people outside and it is easier to clean up than inside."  If having an outdoor tent party, be sure to get tables for people to sit down and eat.