Senior Prom Preparation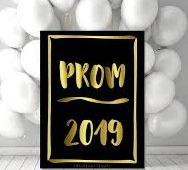 What a better way to end four years filled with special memories than a night of dancing and student body unity? The last hurrah, senior prom, will give the Class of 2019 one last extraordinary night to remember.  
The night filled of fun does not come without extreme preparation both the day of and even months before. Picking out a dress or tux, scheduling hair and makeup, and perfecting everything to a tee can be very time consuming. Prom attire is not something you can do last minute, the outfits need to be picked out in advance to avoid conflicts.  
Senior Maile Santora suggests, "Looking early to make sure I really like my dress." Next on the list of preparation, for girls, is makeup and hair. Whether students get their hair and makeup done professionally, or done at home both always result in beautiful looks. Specifically, Maile chooses to "get my nails done, my hair blown out, and I do my makeup myself."
Senior Madison D'Aries confirms that the routine is almost identical for every girl attending prom.
Next after everyone is satisfied with their look, comes pictures. Pictures are the one permanent memory, no matter how fast the night is danced away. Madison is most excited for, "Taking tons of pictures with my friends." More importantly, are the real memories kept close to heart, serving as a reminder to seniors of their time in high school. These are the type of memories that makes all the jitters and stress of prom completely worth it. For Maile, "I am most excited to go to prom with my boyfriend Brandyn Conti. I'm excited to get dressed up with him and I know I will have the best prom experience with him out of the four times that I have been."
Prom is a special opportunity for seniors  to indulge in one last amazing experience before entering the next chapter of their lives.