Lunch Line Lunacy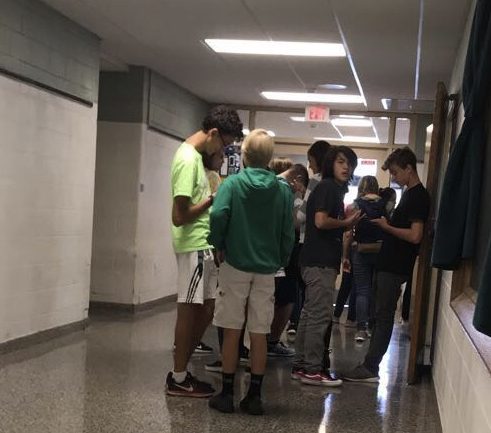 Waiting, waiting and waiting… this has become a daily routine for many students when they get their lunch in the school cafeteria.
From fourth to seventh period, the lunch lines have been noticeably long. Students have been spending a lot of time during the period waiting on the lines. More time spent on the lines results in less time spent eating or chatting with friends.
"It is frustrating because I don't want to spend twenty minutes on a line to get something that should only take a few minutes," said sophomore Maryanne Ryan, who has fifth period lunch. "I want to be able to sit with my friends at lunch since I don't get to talk to them much during the day."
The time spent on the lines may be longer than some would expect.
"Sometimes I'll get back and it's thirty minutes into the period," said sophomore Taylor Hertwig.
Although the length of the lines is a problem, some students have also been dealing with other students acting aggressive while waiting on the lines.
"People will become pushy to get their food," said freshman Erin Gilvary.
WHB Lunch Director Naime Walcott explained that the new staff and the uncertainty from students could have something to do with the long lines.
"In the beginning, a lot of students are still figuring out what they want to eat and we hired an amount of new people who are still learning," Walcott said.
He also said that pre-made sandwiches will be added to the menu that should make the line move quicker. This is one of the upcoming additions to the cafeteria along with a frozen yogurt machine that will be available during the last 20 minutes of each lunch period.
In addition to more pre-made meals, Walcott also said the new staff becoming better-trained should also make the lunch lines shorter.
The long lunch lines are a problem for the many students who buy lunch every day, but be patient because new improvements being made and will likely reduce the length of the lines!