Are Motor Vehicle Prices and Insurance too Expensive for Teens?
Hang on for a minute...we're trying to find some more stories you might like.
New York State has some of the highest insurance rates for teens in the entire country. A recent study showed, adding a teen driver to a parents' insurance plan can increase rates on average to 52% and regular teen insurance plans are even more expensive.
However, there are a few ways to help lower the cost and rates including taking school driver's education, taking a defensive driver's course, and discounted rates for student drivers with good grades.
In our community alone, students are spending hundreds of dollars a month on just gas expenses. Not to mention, the several students who pay for their car and insurance separately on top of the gas.
Senior Angelina Orlando stated, "I spend roughly $50 just in gas each week just getting to school and other activities. The money really does add up quickly."
Senior Jess Ferrick, who bought her car herself and pays for the insurance and gas on her own, works while maintaining her grades at school. She said, "Driving and having your own car is both a privilege and responsibility, because it shows that you are ready to be responsible and you are preparing for the next step in life."
Before getting a car, teens should be sure they can afford the added costs, which can get expensive.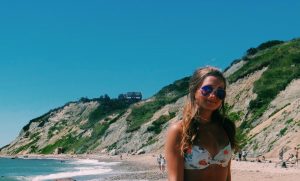 Brittany Gaugler, Staff Writer
Brittany, a senior at WHBHS, is in her first year of writing for The Hurricane Eye. She moved to Westhampton Beach from Southamptonas a sophomore. She...