Another Positive Pep Rally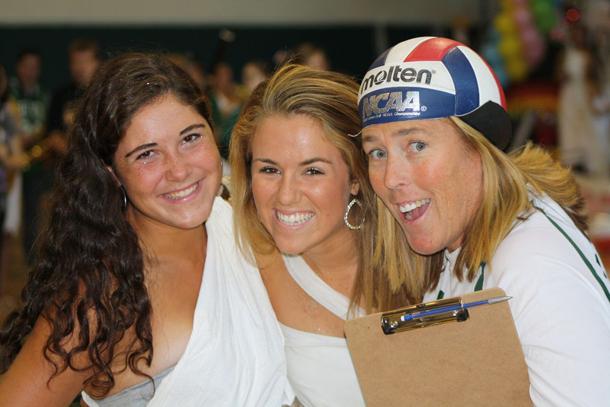 by Samantha Bello, Staff Writer
September 27, 2011
"Next year I'll be wearing earplugs," said Principal Mr. Herr when asked about this year's pep rally.  "It was very fun and I think there was great school spirit," he continued.
On Friday September 16, 2011, WHB students all came together in the gymnasium for the annual pep rally.  Ms. Masterson dressed up like a volleyball and senior Liana Fitt sang the national anthem beautifully.  The bleachers were decorated as board games; seniors as Candy Land, juniors as Operation, sophmores as Life, and freshmen as Monopoly.
Although each class did very well, seniors did take the win with the amazing Candy Land decorations.
Student Government President Alix Suter said, "We worked really hard on the bleacher and on Friday morning came in at 6 am!  It was all worth it because I had a lot of fun and we took the win!"
The pep rally was full of excitement and plenty of cheers, although some students wanted more.
Senior Alex Keneiby said, "The pep rally was a lot of fun, but I think it was cut a little short." He also said, "It could have used more activities to help the crowd come together as a school."
Senior Nicole Iannone agreed. "I really enjoyed pep rally even if I had to deal with my broken leg." She felt, "It was a bit short and could have used more fun activities. I feel like all we did was announce teams and leave."
Athletic Director Mrs. Masterson said, "I think this was one of the best pep rally in a while everyone stayed positive just like last year's." About her costume she explained, "This year was a volleyball year.  In the past I've been a cheerleader, band director, and many more." So underclassmen, expect to see other costumes from her in the future.
I really hope seniors enjoyed their last pep rally, I know I did! Good luck to everyone for the rest of the school year! Go Hurricanes!