WHB Football Fights for Success
The Westhampton Beach Hurricanes kicked off their football season undefeated and prepared to fight their way to the end.
The Hurricanes are currently 5-1 and looking promising for playoffs, but the playoff preparation started long before the season started.
During the summer the WHB Football team put in work on and off the field. They had summer weight room and conditioning. The varsity team also played in 7v7 showcase at Stony Brook University to hone their skills. 
All of this work paid off when the Hurricanes went undefeated in their first five games. Aidan McDermott, a junior on the varsity football team said, "I think that they [the summer workouts] were very beneficial to our team. It gave us a couple of extra months to get ready for the season." 
McDermott also said,  "I think the 7v7s really helped us to go up against a team that's not ourselves. We went against good competition and also helped us install our offense."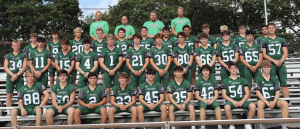 Senior captain Luke Kilroy said, "I am honored for the opportunity to represent the team as their captain. I take great responsibility to keep a positive attitude and set a good example on and off the field." 
Luke is also one of just seven seniors on the team. "It is what it is; it would be great if there were more seniors but we have a great crew." Kilroy plans on staying as a successful team and making a playoff run by "developing a game scheme every week and staying focused in practice." 
The Hurricanes' next game is Friday, October 21, at Sayville High School. Come out and show your support!