The 'Canes are Back!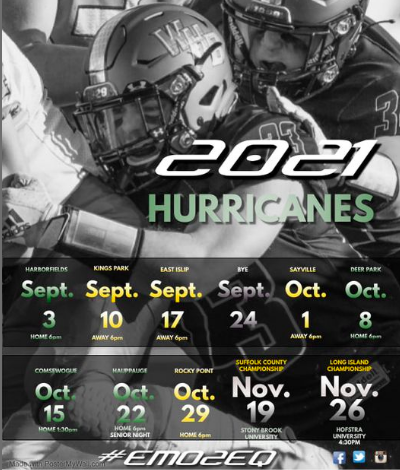 Next fall the Hurricane football team will be on a revenge tour, looking to take back the crown and make up for lost time due to the Covid pandemic. After a tough loss in the Suffolk County Championship last season, the 'Canes are back and ready to redeem themselves.
The "Covid season" last year was barely even a season. With limited fans, masks, shortened season, and no Long Island championship, the spring 2021 season was very different to say the least. Next year will be different. Fans will be back, there will be a full season, and there is a Long Island championship. The 'Canes also get 2 months to prepare for the season as opposed to the three weeks they got last season. The hype surrounding this season is insane.
Incoming senior Rob Moreland is more excited than anyone. "I'm really excited to be playing in front of fans again. It brings a whole new excitement to playing football. I'm hyped up." With fans allowed back at games, the season opener is bound to be a packed house. 
Another incoming senior Deegan Laube shared his goals for the 2022 season. "Of course the goal for the year is an undefeated season and a LIC victory." The team has high hopes for the season and won't expect anything less.
All summer long the canes will be working and preparing for this exciting comeback season. Go canes.