WHB Alumni Making Sports History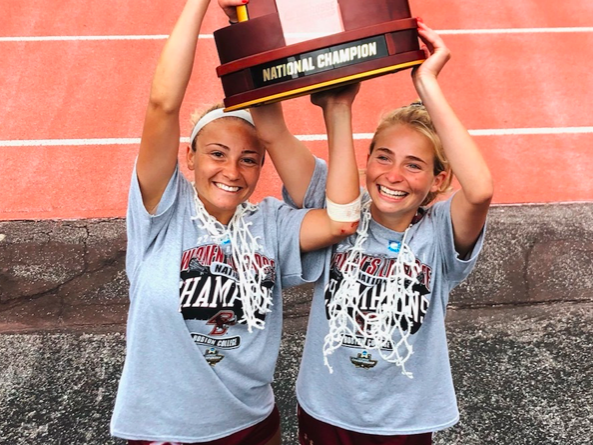 Four WHB alumni are national champs this year!
On May 30th, Boston College won its first-ever national championship. Belle Smith, 2020 grad, and her cousin, 2019 grad Hollie Schleicher, helped BC defeat Syracuse 16-10 in the finals, after a huge win against the top seed UNC in the semi-finals.
In the first half Belle scored two goals, while Hollie's defense only allowed two goals in the second half. Both Belle and Hollie made the All-Tournament team for their outstanding performances.
Belle said her expectations were high, but knew the win would take grit and hard work. "The expectations were high and we knew what we had to do in order to win. However our expectations for our opponent were also high so our coach told us 'we need to be humble and hungry' if we want to win."
Winning the chip was a dream come true. Belle said, "It was the best feeling. Every person on our team's dream since they were young was to win a National Championship."
Belle had an amazing first year at Boston College. She was named ACC Freshman of the Year.  She said, "It was the best first year, despite the Covid restrictions my team made it all worth it. The culture the BC alumni have created around lacrosse is incomparable."
For younger athletes, Belle advises to find what you love and keep working on it – chances are it will come easier. "My advice is to find what you love and work it out. When you find what you love you have a better chance of striving to excel in it. Also, whatever your craft is, focus on making those around you better rather than yourself. My parents have always taught me 'a good player is someone who makes themself better, but a great player makes those around them better'…I believe this applies to all aspects of my life."
Belle and Hollie are not the only alums that have earned a national championship. Chris Merle, 2017 WHBHS grad and a junior at the University of Virginia, received his second National championship, back to back. This year's championship was against the top seed North Carolina 17-6.
Also, alum Eleanor Kast, who graduated from WHBHS in 2018, won the Division 2 title with Lindenwood University on May 26th, winning 14-12.  It was also their first school title in women's lacrosse.  Kast, a goalkeeper, made three saves in the game.
Seeing these alumni succeed has shown our WHB student-athletes that dreams do come true with hard work and determination. Anything is possible.