WHB Girls Hoops Have High Hopes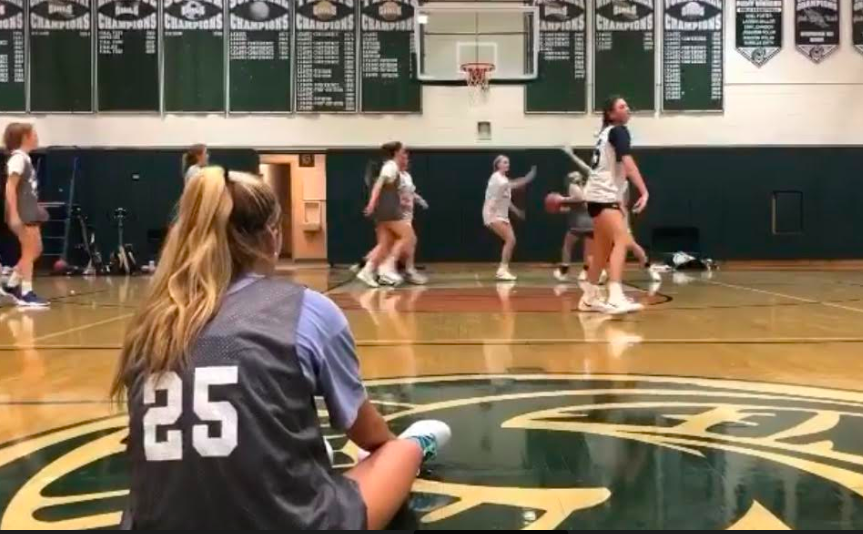 "We getting the chip," is how senior Layla Mendoza explains her feelings on the Lady Canes  upcoming basketball season. A strong player was lost for WHBGVB last year, but the team expects this to be a minor setback and expect to go even further this year. 
All teams on LI are preparing hard for this upcoming season in hopes of making it to playoffs. 
Last year, the girls varsity basketball team fell short of winning a county championship. But the girls hope to make it just as far this year. 
 Girls varsity basketball coach, Mrs. Peters has a few expectations for this season, "To work hard, support one another on and off the court, be present during practice and games. I don't like to look at us as winning counties because we need to take it one on one and focusing on being the best we can possibly be and see how far that takes us."
Senior Belle Smith said, "It's going to be a great season. We have a lot of returners and new players this year who have improved from last year."  She continued, "Our team has such an awesome dynamic, and when you get along off the court, you play better as a unit. We have such a great group of girls and that's going to make it so much fun." 
When it comes to advancing against teams that there was a tight game against in the past, Peters  says, "Year to year, every teams dynamic changes including our own. Losing our teams senior caption certainly changes ours so there isn't a definite answer for that."
 Belle said, "Lindsay had a big presence both on and off the court. We're going to miss having her but we're ready to adapt to that loss and reload for the upcoming season." 
Mrs. Peters agreed, "My plan is to tighten up things in the front court defense so we don't wind up in situations that Lindsay was able to get us out of last year. Not to fill her shoes (because I don't know if that's possible) but to not be in the situations defensively where we would really need her."
Sophomore Molly McCarthy is "so hype" about this season. Molly is extremely excited to "see my improvement on the court because I think I am way more confident and more skilled than last year!" 
Molly continued, "This season is going to be the best the school has ever had because we have so many talented players and we went to counties last year and now we are better so we are going to go undefeated… WOOP WOOP!" 
When asked about Mt. Sinai and their losing players affecting their play this year Molly says, "100% Mt Sinai is nothing without those seniors and they don't know what's coming for real."
According to Coach Peters, "I don't look at a record solely as wins and losses and sometimes teams can learn valuable lessons while losing. My goal is to reach playoffs and get together and reaching our peak at playoff time. Being undefeated is the obvious goal but losing is a reality and it's fine as long as we take those losses and learn from them and improve on what we need to." 
Will you be on the sidelines this year when Canes win Counties?