Washington Wins World Series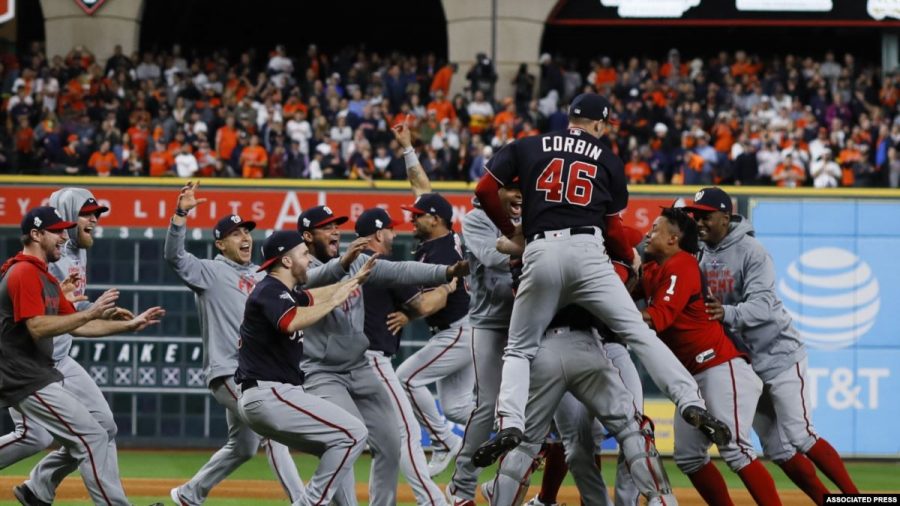 Jayson Babcock, Sports Editor, Staff Writer
November 1, 2019
For the first time in franchise history, the Washington Nationals are champions of baseball. And it didn't come easy.
The Nationals started the year 19-31, increasing their odds to fire manager Dave Martinez. But they would fight back, and earn the home seed in the Wildcard Game at Nationals Park against the Milwaukee Brewers. 
Down by two in the 8th inning, Juan Soto, a 20-year old phenom, lined a single to right with the bases loaded that would score all three baserunners. Daniel Hudson closed it out in the ninth, and the Nationals would face the Los Angeles Dodgers in the National League Division Series (NLDS). 
The NLDS was competitive throughout, extending to a Game Five when Howie Kendrick launched a grand slam to centerfield in extra innings to win the game and win the series for Washington. 
The National League Championship Series was not competitive, as the Nats swept the Cardinals winning all four games of the series and sending them to the Fall Classic.
The Houston Astros would be the in the Nationals way to win it all, and the series lived up to the hype. 
For the first time in MLB history, the road team won every single game of a World Series, with the Nationals winning the first and last two whilst losing three consecutive in between. Stephen Strasburg was awarded the MVP of the series for his two outstanding pitching performances in Game Two and Game Seven.
Baseball will not return until March of 2020 for Spring Training.